June 23, 2017 at 10:50 EDM:   I've only just now realized Why Tayyip Erdoğan and MIT head Hakan Fidan are doing this:   https://www.turkishminute.com/2017/06/23/new-mother-detained-over-gulen-links-despite-doctors-objection/  they're hoping that Fethullah Gülen will crack under the pressure of knowing that all his adherents are being locked up, and that he will come back to Turkey voluntarily. So they can silence him forever with respect to what he knows about corruption in the Erdoğan government. I can't believe how long it's taken me to catch on to what the persecution is really all about. He must Never go back there until those people have lost their hold on power. He must only go back when and if they go on trial, and then, if he is able to, he must go back to testify about what he knows regarding corruption. Or maybe he can testify by video. He must understand that if he succumbs to the pressure to 'end the persecution' by going back there himself, then They Win. The only way is to go through the valley of tears, until the Turkish people understand that there will Never be peace or prosperity or justice in Turkey, with Tayyip Erdoğan and Hakan Fidan at the helm.  https://www.turkishminute.com/2017/05/22/new-amnesty-report-says-purged-public-sector-workers-denied-a-future-in-turkey/
Here is more on the background to the persecutions in Turkey:   https://www.turkishminute.com/2017/06/17/opinion-erdogan-against-kartlis-deda/  Tayyip Erdoğan and Fethullah Gülen used to be best pals – until the latter started instigated a corruption probe against the Erdoğan government and MIT head Hakan Fidan, the latter whom is being accused of being behind a rash of extra-judicial "kidnappings," both in Turkey:  https://www.turkishminute.com/2017/06/23/another-post-coup-victim-abducted-in-broad-daylight-in-turkey/  http://stockholmcf.org/critics-whisked-away-from-streets-in-turkey-detained-in-secret-locations-faced-torture/  and internationally:  https://www.turkishminute.com/2017/05/02/video-turkish-school-principal-businessman-abducted-in-malaysia/  https://www.turkishminute.com/2017/05/26/video-turkish-teacher-put-on-plane-by-turkish-police-after-detention-at-myanmar-airport/  and there's considerable evidence mounting of serious judicial interference:  https://www.turkishminute.com/2017/05/14/hsyk-downgrades-status-of-judge-who-reject-bylock-use-as-evidence-of-crime/
June 21, 2017 at 21:55 EDM:  It is widely being reported today in Turkish news sources that the Deputy Chairman of the official Opposition Party (CHP) in Turkey, Bülent Tezcan, has somehow managed to get ahold of a secret letter from the secretary-general of the Turkish Presidency that amounts to written evidence of direct interference in the judiciary of Turkey by Turkish President Recep Tayyip Erdoğan, in November of 2015.  The letter demands that the Ankara Public Prosecutor prosecute a Turkish newspaper, gercekgundem, for "insulting" the President, and "requests**" to be kept posted of developments in the "case."  Here's a summary of the story in English:  https://www.turkishminute.com/2017/06/22/chp-presents-evidence-erdogan-interfered-with-judiciary-to-intimidate-media/  Here's the best copy of the entire letter (in Turkish, naturally), that I could find online, I tried my hand at sharpening it but didn't see any improvement; the original is legible but barely:  
along with the link to the post (in Turkish) with that picture:  http://www.hurriyet.com.tr/chpden-yargida-belge-iddialari-40497801  a link with the video of Bülent Tezcan's conference:  http://www.cumhuriyet.com.tr/haber/siyaset/765620/CHP_li_Tezcan_acikladi__iste_yargiya_talimatin_belgesi.html  and another summary of the story in English:  http://stockholmcf.org/chp-presents-evidence-turkeys-erdogan-interfered-with-judiciary-to-intimidate-media/
**(arzu etmek, 'wish,' but stronger than 'request,' more like 'the boss wishes you to do something' kind of request).
*********** 
June 15, 2017 at 11:00 AM EDM update:  In Turkey today there are the evil ones who have just been waiting for their chance to siphon off a little power to do evil in the name of Turkey; for instance, these two self-proclaimed "reporters" who are calling on Turks abroad to assassinate anyone they believe to be a follower of Fethullah Gülen's and democratic process be damned:
https://www.turkishminute.com/2017/06/15/pro-erdogan-journalists-call-for-assassination-of-gulen-followers-abroad/
And Turkish President Recep Tayyip Erdoğan is so possessed by evil that, even though he must know he should condemn and punish those two men, he can't bring himself to do so, just as he sat and watched his men beat the crap out of peaceful protesters in Washington, D.C. https://www.nytimes.com/interactive/2017/05/26/us/turkey-protesters-attack-video-analysis.html?_r=2  just as he's sat by while 66,000 university students lose their schools:  https://www.turkishminute.com/2017/06/11/66000-students-forced-to-relocate-after-15-turkish-universities-shut-down-over-gulen-links/  and as journalists are persecuted:  https://www.turkishminute.com/2017/06/14/journalist-not-released-despite-witness-claims-to-have-signed-testimonies-under-torture/
(Here is the source story in Turkish: https://www.evrensel.net/haber/323450/gazeteci-nedim-turfent-13-ay-sonra-hakim-karsisina-cikti   )
and as a court system that has learned it had better do what he says or heads will roll works to commit a massive and illegal cash grab of business assets:  https://www.turkishminute.com/2017/06/15/77-year-jail-sentence-sought-for-businessman-ipek-over-gulen-ties/  all in the name of protecting Turkey from 'Gülenists,' claimed by Erdoğan and Turkish Intelligence head Hakan Fidan to be "terrorists" who were behind the 2016 coup attempt in Turkey – and all this even though nothing, I repeat nothing, has been proven either in the coup attempt or in the labeling of Gülen's followers as being "terrorists."  The Turkish government is not even bothering to prove that the victims of its purges are Gülenists; just to be in possession of an odd little Google app called Bylock is enough to get locked up for decades, especially if one has assets that the state would like to get its hands on.  It's taken many months for the United Nations to get one of its own judges released:  https://www.turkishminute.com/2017/06/14/turkish-court-releases-un-judge-arrested-over-gulen-links/  and all because he was found to have the google application installed on his phone; Justice Aydın Sefa Akay has repeatedly denied having any links whatsoever to the Gülenist movement.
Earlier this month, the Turkish Official Gazette issued a call for 130 of its citizens living abroad to return home to 'face trial for being Gulenists' or get their citizenship revoked.  Although it was easy to find reports of the list, it was with great difficulty that I found the names.  I searched the Turkish Gazette online repeatedly with no success.  However, I found a Turkish newspaper that took screenshots of the entire list:  http://www.ahaber.com.tr/galeri/turkiye/130-isim-icin-vatandasliktan-cikarilmada-flas-adim/2  and I have also saved the list, so if I notice this article has disappeared, then I will upload the screenshots of the list.
……………….
May 02, 2017 at 16:30 EDM update:  Word from the online Turkish newspaper Turkish Minute is that the Turkish government, (which essentially means Turkish President Recep Tayyip Erdoğan, as Turkey is already under a de facto one-man rule), is seeking to lift the immunity of Kemal Kılıçdaroğlu, leader of Turkey's main opposition party, the Republican People's Party (CHP), as well as that of seven of his deputies:  https://www.turkishminute.com/2017/05/02/turkey-seeks-to-lift-main-opposition-leaders-parliamentary-immunity/  I predict that lifting the immunity of eight members of the official Opposition including that of their leader, will prove to be the last straw for Turks.  I predict that such an egregious violation of democratic norms and law even in Turkey will open their eyes finally, to the inescapable conclusion that they have allowed a dictator to take over the government of Turkey.  I predict the result will be a revolution, and civil war, at the end of which, the President of Turkey, Recep Tayyip Erdoğan, will finally go on trial for treason.  Perhaps he will be the first to incur the death penalty he is so desperate to bring back to Turkey for his enemies, wh0 would seem to amount to about half of the people living there.  "Hope is the poor man's bread."  Turkish saying.
'hanged man' Tarot card courtesy of wikipedia, which was banned in Turkey a couple of days ago, for 'threatening national security, the public order, or the well-being of the public:  https://www.theguardian.com/world/2017/apr/29/turkey-blocks-wikipedia-under-law-designed-to-protect-national-security
………………..
April 26, 2017 at 17:17 EDM update:  Today, Turkish judges Metin Özçelik and Mustafa Başer were sentenced to ten years in prison, for "abusing their judicial power" according to the court:  https://www.turkishminute.com/2017/04/26/judges-who-attempted-to-release-samanyolu-tv-ceo-sentenced-to-10-years-in-jail/
http://stockholmcf.org/judges-ozcelik-and-baser-sentenced-with-10-years-of-prison-over-alleged-gulen-links/
The European Association of Judges had previously released (in 2015) an "informative report" on the background to the arrest and detention of Metin Özçelik and Mustafa Başer, and that report, still available online here:  http://www.juristforbundet.no/Documents/Dommerforeningen/informative%20report%20arrest%20and%20detention%20turkish%20judges.doc  indicates that it was courageous efforts the judges had made to uphold justice and to do their jobs properly which landed them in trouble.  For the people who had been in pre-trial detention for months in contravention of Turkish law at that time and whom the judges had elected to release pending their trials, were not just ordinary people.  They were the police and prosecutors involved in the investigation of Turkish President Recep Tayyip Erdoğan on the question of possible corruption.  This video:
which has English subtitles available (just click on the 'subtitles' box on the lower right-hand side of the video), gives the essence of what the corruption question was all about:  had Recep Tayyip Erdoğan and his son Bilal conspired to stash away monies that had been unlawfully appropriated?  Certainly, from online news reports at that time, one can see how the Turkish First Family might have felt in need of some extra cash:  http://www.dailymail.co.uk/news/article-3696037/She-silk-wallpaper-bathroom-2-000-roll-Super-spending-habits-Turkey-tyrant-s-shopaholic-wife-laid-bare-two-million-coup-hit-country-earn-3-day.html
Turkey had already run afoul of European courts by ignoring a United Nations order to release United Nations war crimes tribunal Justice Aydın Sefa Akay:  http://www.reuters.com/article/us-turkey-court-un-idUSKBN15F1FK  who had been imprisoned, as many thousands of other people have in Turkey, for using a googleplay messaging application called Bylock.  Last month Turkey was referred to the UN Security Council for flouting the UN order to release Justice Akay:  http://www.reuters.com/article/us-turkey-coup-un-judge-idUSKBN16D1MR
As for that Bylock app, although this pro-Turkish government newspaper, Hurriyet, states in its headline on the subject that the owner of Bylock claims that using Bylock is 'evidence' of being a 'Gulenist,' that's not in fact what the man actually says:  http://www.hurriyetdailynews.com/bylock-use-is-an-evidence-of-gulen-network-links-owner.aspx?PageID=238&NID=105284&NewsCatID=509  as the GlobePost was quick to point out:  http://theglobepost.com/2016/10/25/turkish-paper-debunks-bylock-conspiracy-in-blow-to-govt-narrative/
Moreover, not only has Judge Akay denied that he is a 'Gulenist,'*** http://stockholmcf.org/un-judge-in-pre-trial-detention-denies-gulen-links-over-bylock-use/ but the intrepid Turkish newspaper 'The Turkish Minute' has also made the claim that back in October 2016, the Turkish Security Directorate ordered police throughout Turkey to "get confessions" of being 'Gulenists' or 'terrorists,' because evidence of using Bylock was not in itself evidence of a crime:  https://www.turkishminute.com/2016/10/02/police-ordered-get-confessions-told-bylock-use-alone-not-evidence-crime/
But the truth doesn't matter, when one is desperate to hang onto power at any cost.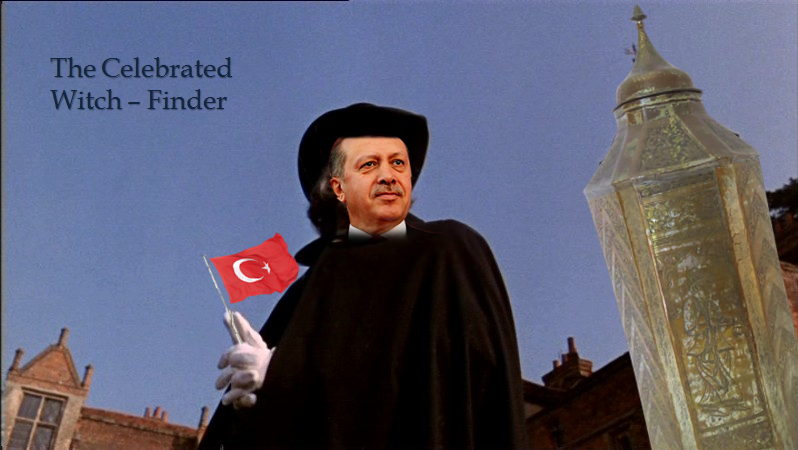 Turkish flag courtesy of  http://www.pngall.com/ ; Turkish Ottoman minaret ornament courtesy of https://www.rubylane.com/
https://en.wikipedia.org/wiki/Matthew_Hopkins
…………………
***************
February 11, 2017 (EDM) at 23:33 update:  From the February 12 (European time) 2017 article:  http://www.turkishminute.com/2017/02/12/52916/
""Lawyer and human rights activist Eren Keskin said a state of emergency (OHAL) has been used to cover up all violations in Turkey, saying she does "not remember any period in which torture was this much legitimized."
….  "Şanlıurfa Bar Association board member Güldal Beyazağaç Tuncel, who spoke during the conference…
said: "Arrestees are waiting for months, and the indictments are not being issued. Due to restriction decisions on investigation files, they do not know why they've been arrested; therefore, their defense can't be made effectively. As part of operations many jurists including lawyers have been taken into custody and arrested."
Tuncel listed other problems: "Conditions in the detention centers are quite bad. People are being kept at sports centers. Two hundred people use one toilet, and there is no possibility of having a bath. Consulting with lawyers is restricted for the first five days. Additionally, they have started to ask lawyers for written consent from the families of detainees. The right to chose to a lawyer belongs to the detainee, not the family. The detainees are marched in the corridors of the courthouse with their hands cuffed behind their backs; they are being humiliated in this way…
Police discriminate between lawyers chosen by detainees and those assigned by the bar association. The lawyers who are chosen by the suspects are being discriminated against. Lawyers worry when accepting a case. They are worrying whether an investigation will be launched against them. Lawyers are no longer able to perform their duties independently and freely.""   Read the rest of the article here:  http://www.turkishminute.com/2017/02/12/52916/
And from the February 12, 2017 article:    https://www.theguardian.com/world/2017/feb/12/blacklisted-erdogans-witch-hunt-forces-turkish-families-into-world-of-fear-and-isolation
"Since the coup attempt, more than 125,000 people have been dismissed from state jobs, and more than 45,000 are in jail on terrorism charges, including military personnel and police officers, but also large numbers of journalists, academics and civil servants. Erdoğan has repeatedly vowed to "root out" the entire Gülen network and threatened to reinstate the death penalty and "let the people take revenge". The president, who wants to turn Turkey's parliamentary system into a presidential one via popular referendum, is using the coup attempt as an excuse to rid himself of all unwanted critics.
"Many people have been dismissed not because they misused their positions, but because of their opposition to the AKP and Erdoğan," says Andrew Gardner, Turkey researcher for Amnesty International. "If the state wants to bring proceedings against people, they need to do so based on individualised proof. But what we are seeing are blanket accusations against which people are unable to appeal.""
Read the rest of the article here:   https://www.theguardian.com/world/2017/feb/12/blacklisted-erdogans-witch-hunt-forces-turkish-families-into-world-of-fear-and-isolation
……………..
December 26, 2016 update:  I read a remarkable article from Dec. 23 today in the Huffington Post, on the assassination of the Russian Ambassador to Turkey, Andrei Karlov (R.I.P) on Dec. 19:   http://www.huffingtonpost.com/entry/assassination-russia-ambassador-turkey-anom_us_585c23dce4b0d9a5945794e8?section=us_world
The sheer self-centeredness and self-servingness of this article is captured perfectly in the last sentence of it: "Regardless of who wanted the ambassador's death to be a message to whom ― and via whom ― the only loser in this power game looks like ordinary Turks and Turkey itself." Really?? The only loser is Turkey?? What about the dead guy? And Russia's loss of face? And, here's a thought, Maybe, just maybe, he got killed because A. the cop who killed him really Was as angry as he appeared to be about Russian actions in Syria, and, B. because Nobody left outside of prisons in Turkey would Dare to question Why an unknown Turkish man with No official authority at that art gallery whatsoever was allowed to pace back and forth behind the Russian diplomat, and nobody would have Dared to check him for weapons, even though armoured vehicles had been parked outside of the Russian embassy for days in case of an attack; because Nobody in Turkey Dares to question or to Challenge anybody who Might be MIT or government related, and that's why the Russian ambassador was successfully assassinated!
…………….
November 21, 2016 update:  I had an interesting exchange with an AKP party official yesterday and today on twitter.  You can read all about it here:
https://www.facebook.com/plugins/post.php?href=https%3A%2F%2Fwww.facebook.com%2Fkitty.grimnirs%2Fposts%2F559438937599601&width=500
………….
From a stunning article by Burhan Sönmez published yesterday, November 08, 2016:  "
"…The government exercise a pernicious influence over Turkish broadcasters, meaning that people have turned their attention towards social media platforms and independent websites to get their news. As a result, the authorities regularly restrict and block internet access. The latest development was the arrest of Selahattin Demirtaş and Figen Yüksekdağ, co-leaders of the pro-Kurdish party HDP, alongside some of their MPs, on Friday. It was a move which followed the arrest of Gültan Kışanak and Fırat Anlı (co-mayors of the biggest Kurdish city, Diyarbakır) the previous week and is a clear sign that the government will target anyone who doesn't support them. During both incidents, the internet was cut off and social media accounts were out of reach across the country.
Erdoğan recently extended the state of emergency and is using it to the advantage of the ruling party. The AKP now has "legal" permission to bypass parliament and rule by decree. For example, they recently removed the rights of universities to appoint their own rector in free elections. From now on, Erdoğan himself will appoint the head of each university.
While all of these things are happening in Turkey, most people are unaware of them due to media restrictions and bias. The majority of TV channels won't cover certain stories or will broadcast them in a distorted way. On the other hand, these channels will live broadcast all of Erdoğan's speeches, as was the case on 12 January this year when a suicide bomb attack killed 10 tourists in Istanbul. Erdoğan gave a speech on the same day and dedicated a mere 44 seconds to the tragedy without mentioning the attacker's link to Isis. However, he spoke for exactly 10 minutes about Academics for Peace, a group of university teachers who signed a declaration demanding a peaceful solution to the Kurdish conflict.
Erdoğan accused them of sympathising with terrorists and of threatening Turkey's national security. That's how the information flows in the Turkish media and that's why alternative ways of communication news, like free newspapers and social media platforms, are so important…."
I have quoted more than I usually do from media articles, in case the source of the article:  https://www.theguardian.com/commentisfree/2016/nov/07/president-erdogan-turkey-leader-crackdown-media-internet-kurdish  has also been blocked by elements in Turkey.  As of this writing, I don't think my blog has been blocked in Turkey, so I offer this post as a public service to anyone in Turkey who might be able to access it.  The Guardian newspaper keeps up with events in Turkey quite well and is an excellent source of information.  Another good site is the Turkish Minute:  http://www.turkishminute.com/ which will post stories that would get a newspaper in Turkey shut down in a heartbeat, in the current climate of total suppression of dissent.
For those of us with ties and memories in Turkey, it's awful to witness from afar the savaging of democratic freedoms that had formerly made Turkey stand out from any other Muslim country.  When I lived there in the nineties, I often said that Turkey was the only Muslim country I could have lived in.  Not any more.
I remember when Tayyip Erdoğan was campaigning in the last presidential election.  "Make me president and I will bring peace,"  he said.  In fact he has brought the exact opposite.