From November 25, 2019  [posted here on December 11, 2019 at 11:25 AM EDM]:
I don't think the Hells Angels were responsible overall for Altamont.  I don't think they intended to start a brawl.  Certainly, I hear the ring of truth in the voice of Hells Angel Gordon Gary Grow aka 'Flash,' in the video below, when he says "the crowd was not our enemy, it was the people that were nuts in the crowd."
David Crosby is just running his mouth in the video, making absurd, ignorant and downright defamatory statements about the Hells Angels:  "they don't do security."  Yeah they do, actually, often with their own security companies.  "Hells Angels are big guys who just like to get drunk and fight, mostly, stoned and drunk and fight."  This shows Crosby's complete ignorance about the lives of Hells Angels.  He says he had a number of friends in the club.  Hard to believe.  And I'd bet he doesn't have any now.
I find Gordon Grow to be the most compelling and persuasive of the interviews, both in the degree of his first-hand knowledge and his evident sincerity, which rings through in his voice.
https://www.washingtonpost.com/video/entertainment/the-hells-angels-the-tigers-invited-to-lunch-at-altamont/2019/11/21/65c409a0-db73-49c1-9460-1431e51b4248_video.html
***************
***************
***************
Every day I was preparing this blog-post I asked myself, what would Hersh Wolch do?  https://en.wikipedia.org/wiki/Hersh_Wolch
Early one morning, the answer was in front of me: 
"Let the facts speak for themselves." 
That's what he would have done.  So that's what I did.
Sonny Barger and the Hells Angels Creed
[01]   Still handsome and charismatic at near-eighty, Ralph Hubert "Sonny" Barger Jr. was the main mover in transforming the Hells Angels, who have always attracted a significant number of misfits and criminals,  ['Hells Angel,' p. 03, 87 – 91; p. 124 "Most of us [in 1965] were card-carrying felons."]  https://youtu.be/BICum4v2-uE  , from a California nuisance into a world-wide menace.
https://www.thespec.com/news-story/8131401-former-hells-angels-hitman-becomes-target-as-quebec-bikers-push-into-gta/
https://www.dw.com/en/hells-angel-member-keeps-silent-at-police-murder-trial/a-6003263     https://www.independent.co.uk/news/uk/crime/blood-and-honour-84554.html
[02]   Embedded into the very soul of the club is the personal creed of Sonny, the most iconic Hells Angel for all time:  "There is nobody lower in this world than someone who rats on your club…"  ['Hells Angel,' p. 229]
So, serial killers, child rapists…   they're all better than an informer, according to Sonny's world view.    https://law.justia.com/cases/federal/district-courts/FSupp/803/499/2133128/   ]
"If you treat me good, I'll treat you better.  If you treat me bad, I'll treat you worse."  ['Freedom, Credos from the Road,' p. 15]  "I treat everybody the way I want to be treated. I treat them the way they treat me. If they treat me good, I'll treat them better. If they treat me bad, I'll fuck 'em. And they gotta realize that."  http://www.nypress.com/hells-angel-an-interview-with-sonny-barger/
It's an anthem of vindictiveness, and it has nothing to do with being fair.  In that same article, Sonny claims to be "one of the fairest people you'll ever meet."
Sonny Barger has no clue as to what 'fair' means.  'Fair' is to requite measure for measure.  Behaving "worse" to someone you think has wronged you, is not 'fair,' it's vindictive – and it's the creed of a punk, of a gangster.  It's a license for viciousness, and the Hells Angels clearly took it to heart.  [cf. para. 05]
And,  "It's okay to lie to the cops, because they lie to us:  http://www.nypress.com/hells-angel-an-interview-with-sonny-barger/
[03]   And the response from the Angels:  ""On one wall, a red-and-white Hell's Angels winged skull hangs over the fireplace. On another wall, there's a plaque that the Angels gave Barger on his 40th anniversary in the club: "You have led us and given us the Hell's Angels way and the Hell's Angels beliefs to fight for, to live for and to die for . . . ."  https://www.washingtonpost.com/archive/lifestyle/2000/08/09/hells-aged-angel/4489a3e6-70e1-4d97-8024-775e3159de17/?utm_term=.7ac4910eb485
[04]   Three early victims of the Hells Angels' creed were Margo Compton and her twin daughters.  https://www.apnews.com/7daf7344b73f9f9377d409c92c6d9845
https://www.liveleak.com/view?i=de5_1223141123
"Witnesses will include many of the same prison inmates affiliated with the Hells Angels or the Aryan Brotherhood prison gang who testified against McClure.
The inmates said they heard McClure brag about the 1977 killings of Compton, her daughters and a friend, and describe how the children's heads were shattered by his bullets.
The witnesses said they decided to talk at McClure's trial because he broke a cardinal rule among biker and prison gangs: "snitches" should be killed, but their innocent children should not be harmed."
They said McClure was following Garrett's orders.
http://www.spokesman.com/stories/1995/may/14/hells-angel-on-trial-18-years-after-murders/
According to the blog 'Aging Rebel,' Sonny Barger had this to say in 2015 about the deaths:  "  Yes. Margo Compton (who was found dead in Hillsboro, Oregon in 1977) was a very bad scene. One guy got six months. The other guy would have got the same if someone hadn't killed her. The case went unsolved for years until a RAT told a story to keep from going to prison. To this day, I'm not sure it's Buck (Odis 'Buck' Garrett) who belongs in prison. But the Rat who had all the evidence to convict him."  https://www.agingrebel.com/13404/comment-page-1
Here is a detailed background on the story behind the murders:  https://www.rollingstone.com/culture/culture-news/hells-angels-masters-of-menace-84148/
And in 1972, according to the NY Times, two boiler-makers were viciously attacked by two Hells Angels, James Neal, then 26, and William Starkey, then 28, for the 'crime' of double-parking while they moved stuff into a building.  Civilized people either wait patiently or call a tow truck.  Hells Angels held in vicious beatings of father and son
[05]   More recently, three Alberta Hells Angels, https://gangstersout.blogspot.com/2016/10/verdict-coming-in-greece-murder-trial.html were convicted in Greece in 2016, for murdering a man who simply wanted to go home from a bar on his own motor-bike, according to witnesses:
http://www.whitecourtpress.com/hells-angels-take-on-greeceand-lose/
https://edmontonjournal.com/news/local-news/two-edmonton-hells-angels-now-face-murder-charges-in-greece
https://gjengkriminalitet.blogspot.com/2016/01/3-alberta-hells-angels-charged-with_77.htm
https://vancouversun.com/news/staff-blogs/three-alberta-hells-angels-now-facing-murder-charges
[06]   And in May of this year, notorious ex- Hells Angel chief Maurice Boucher pleaded guilty in Quebec to plotting the death of a former rival:  https://globalnews.ca/news/4150401/maurice-mom-boucher-pleads-guilty-to-murder-conspiracy-charge-involving-rival/
and was sentenced to yet another ten years:  https://www.cbc.ca/news/canada/montreal/hells-angels-mom-boucher-sentenced-1.4658737   I would tabulate the number of murders and attempted murders Maurice Boucher was responsible for, together with the number of years in prison they've earned him – but I can't count that high.  https://www.theglobeandmail.com/news/national/biker-boss-flaunted-his-notoriety/article25296296/  https://en.wikipedia.org/wiki/Maurice_Boucher
[07]   Earlier this year, Manitoba Hells Angels Nomads president Dale Kelland incited hundreds of Support 81 followers to leave false reviews online targeting a bar that does not allow what it considers to be 'gang colors' inside the bar:  https://www.cbc.ca/news/canada/manitoba/hells-angels-no-gang-colours-policy-1.4616713
https://www.cbc.ca/news/canada/manitoba/manitoba-hells-angels-business-reviews-1.4608271
April was a turbulent month for the Hells Angels in Canada:  https://www.cbc.ca/news/canada/montreal/raids-targeting-hells-angels-yield-dozens-of-arrests-in-quebec-1.4632884
[08]   2015 was another banner year for the Quebec Hells Angels:  https://www.cbc.ca/news/canada/montreal/14-hells-angels-plead-guilty-to-conspiracy-to-commit-murder-1.3064814
[09]   But, I digress.  Back to Sonny Barger.  He has married four times.  His first wife, Elsie Mae George: http://suzid.tripod.com/FGS-10374.html   died on February 01, 1967, trying to give herself an abortion.  In his auto-biography, Sonny states that he and his wife had agreed they wouldn't have any children.  Then, he left town.  And then, she died.  [Hells Angel, 'Collector's edition and paperback editon, p. 102 – 103] Barger says he was "devastated" by Elsie's death [ibid]; but, see the next three paragraphs, on Sonny's only "regrets" in life.
[10]   In August of 2009, a Washington Post reporter asked Sonny if he had any regrets about his life:
"Yeah," he says. "Smoking. Too much cocaine.   And losing my right to own a gun. I don't think I'd change anything other than that."  (Well.  Good to know.) https://www.washingtonpost.com/archive/lifestyle/2000/08/09/hells-aged-angel/4489a3e6-70e1-4d97-8024-775e3159de17/?noredirect=on&utm_term=.415bdb3de381
[11]  The BBC persisted farther than the Post did on the subject of regrets, and got an even more revealing answer:  "Barger claims that if he had his life to live again the only things that he would change would be his smoking and drug taking. When he was diagnosed with cancer and given just two weeks to live over twenty years ago, did he really have no regrets?
[12]   His answer:  "'I certainly did. I was working out how I could go get a gun and go and kill everybody I didn't like before I died. It didn't happen and I didn't die, so I really lucked out… there are a lot of people in this world who need to be killed.'"   (I can't help wondering how many people he gave that memo to.)   http://www.bbc.co.uk/worldservice/people/highlights/000824_hell.shtml
[13]    Also in 2000, the NY Press asked him in an interview:  "Is there anything you would do to change the public image of the club?"
His answer:  "Absolutely not. We are what we are. In the book I thanked everybody for making the club what it is today, whatever you think it is. I don't care what you think it is, 'cause I'm happy with it."  http://www.nypress.com/hells-angel-an-interview-with-sonny-barger/   (Well, as long as Sonny's happy, eh.)
[14]   From The Independent, again in 2000:  "Do you believe in God?"
His answer:  "Absolutely not."  https://www.independent.co.uk/arts-entertainment/books/features/an-angel-at-my-table-697297.html
I'm not surprised.  For a man who lives by his stated code of ethics, belief in a deity who insisted on an eventual accounting would be awkward, wouldn't it.
[15]    Sonny gave a number of interviews in 2000 because he was promoting his book, the first edition of 'Hell's Angel: The Life and Times of Sonny Barger and The Hell's Angel Motorcycle Club.
[16]    After 2000, Sonny appears to have talked a lot less to the press – until 2003, when he and his third wife gave a startling series of interviews to Arizona writer Terry Greene Sterling, which were published in one article in June of that year.  The article is no longer readily available online.  Many thanks to Dennis Watson for somehow getting ahold of a copy and posting it: https://gangstersout.blogspot.com/2016/08/sonny-barger-and-george-christie.html   where you can download it in PDF format off of OneDrive:   https://onedrive.live.com/?cid=60C146B96A72FCC3&id=60C146B96A72FCC3%21212&parId=60C146B96A72FCC3%21168&o=OneUp    Be aware, it's a Big file, 175 MB.  If you're not familiar with PDF files, the acronym stands for 'Portable Document File,' and it's mostly used to transfer large files.  You can download a free PDF Reader from ADOBE Acrobat that works quite well:  https://get.adobe.com/reader/
[17]    It's not clear to me from the court record:  http://www.superiorcourt.maricopa.gov/docket/FamilyCourtCases/caseInfo.asp?caseNumber=FN2003-001694    when Noel and Sonny's divorce was signed off on by the judge and the court clerk:   although the decree was filed on June 22, 2005, it appears it was still on the docket to be finalized on June 27, 2005.
https://www.liveabout.com/understanding-your-final-decree-of-divorce-1103069
[18]   Sonny married his fourth wife, Zorana, on June 25, 2005:    https://www.imdb.com/name/nm0054554/bio?ref_=nm_ov_bio_sm
https://www.imdb.com/name/nm5040559/bio
There is an illuminating interview with Zorana in the last part of this video:  https://youtu.be/hSwIPdQ4Kk0  starting at about 24:30.
Daniel Leroy "Hoover" Seybert
[19]   Hoover had been president of the Hells Angels Cave Creek, Arizona chapter for years, when he was gunned down outside of the Phoenix Bar Brigett's Last Laugh: https://www.phoenixnewtimes.com/location/brigetts-last-laugh-6483401     early on Saturday morning, March 22, 2003:  https://www.bikernet.com/pages/April_3_2003_Part_2.aspx
https://www.legacy.com/obituaries/azcentral/obituary.aspx?n=daniel-seybert&pid=893184
[20]   He left behind two daughters, one of them still in primary school:    http://www.genlookups.com/mi/webbbs_config.pl/read/40    https://azdailysun.com/born-to-be-mild/article_3882f044-a2ee-52d7-bdfb-d767d38d5fb5.html
There is an excellent picture taken in 2002 of Hoover and Sonny by a Hells Angel from Paris, who calls himself 'Filo Loco,' and who is a very gifted photographer:  https://www.flickr.com/photos/deadlicious-gallery/840080374  as well as several others, also taken by 'Filo,'  which include Sonny's third wife, Noel, here:  http://seriouspublishing.blogspot.com/2008/10/ralph-sonny-barger.html
Issues surrounding Hoover's murder are addressed later on in this blog-post.
George Christie
[21]    George was a Hells Angels member for many years, until he either:  quit (his version of what happened):  http://webcache.googleusercontent.com/search?q=cache:ALtoqPidhy8J:www.history.com/shows/outlaw-chronicles-hells-angels/articles/about-george-christie-jr+&cd=7&hl=en&ct=clnk&gl=ca
or, left before he got kicked out (the Hells Angels version of what happened):   https://www.agingrebel.com/13396
It would be a massive understatement to say that Christie's credibility is an issue with the Hells Angels, and it's addressed in detail later on this blog-post.  For now, in this introduction to the people frequently mentioned in this post, I will briefly relate my own personal experience of the man (by email only), and how that stacks up with claims made in his book, 'Exile on Front Street,' which will also be a focus of this blog-post.
[22]   In 'Exile,' George makes repeated claims to have been a "peace-maker" in the Hells Angels. ["I'm easygoing [sic]" p. 29; "It was the first time I realized that I was meant to be a peacemaker, not an assassin.  That set me apart from many Hells Angels.  It was an identity I would come to embrace, at no small cost."  p. 110; "Sonny was the figurehead.  Irish was the brawler.  Animal was the crazy one.  I would be the peacemaker.  And it would cause me no end to [sic] grief and trouble."  p. 106]
However, my personal experience of George Christie is that he is quite willing to re-write history, even when the benefit to him in doing so seems obscure to me.
[23]   In late August, after repeated failures to obtain a copy of the 2003 Phoenix Magazine article [cf para. 16], I sent George Christie an email asking him if I could obtain a copy from him.  He said he would try to get a copy to me but that he was "not well versed in computers.
After I finally obtained a copy, thanks to Dennis Watson's link, I sent the link to George Christie, since he'd promised to try to get a copy to me:

[PIC 01].
I also sent him P.S. with instructions for reading PDF files since he'd said he wasn't well versed in computers.  Christie has never thanked me for the link or even acknowledged that he received it.  Instead, replying to the postscript I sent and not to the email with the links I sent to the article, he tells me that he's going to take the article to the business center in his town and have them send it to me.
[PIC 02]   

 I replied saying "that's not necessary" and "didn't you get the email with the links I sent you?" But he just carries on with his re-write, saying:  "You did receive the copy from the Ojai Business Center, correct."  

[PIC 03]
No, I replied, and what's more, I couldn't have done so, because the file is too big for my server (Shaw, for the account I was using.)  But he insisted that the Ojai Business Center had promised to send me a copy and that they had sent one to his email, which he had received, no problem.   

[PIC 04]
Now, the Ojai Business Center operates on gmail:   https://www.ojaibusinesscenter.com/   and Christie's email to me was also by gmail.
Although I hadn't used a gmail account to correspond with Christie, I do have one, as it happens.  The Phoenix Magazine file is far too big for my Shaw account to handle.  I was curious to see what the gmail account would do, so I tried to upload it into my gmail account, and then 'send' it to my Shaw account.
As you can see from the screenshots I took, however, gmail refused to send that file anywhere except into my 'google drive' link, from where, all I could do was to send a link to the file to someone, and first, I had to give the recipient permission to 'access' the file: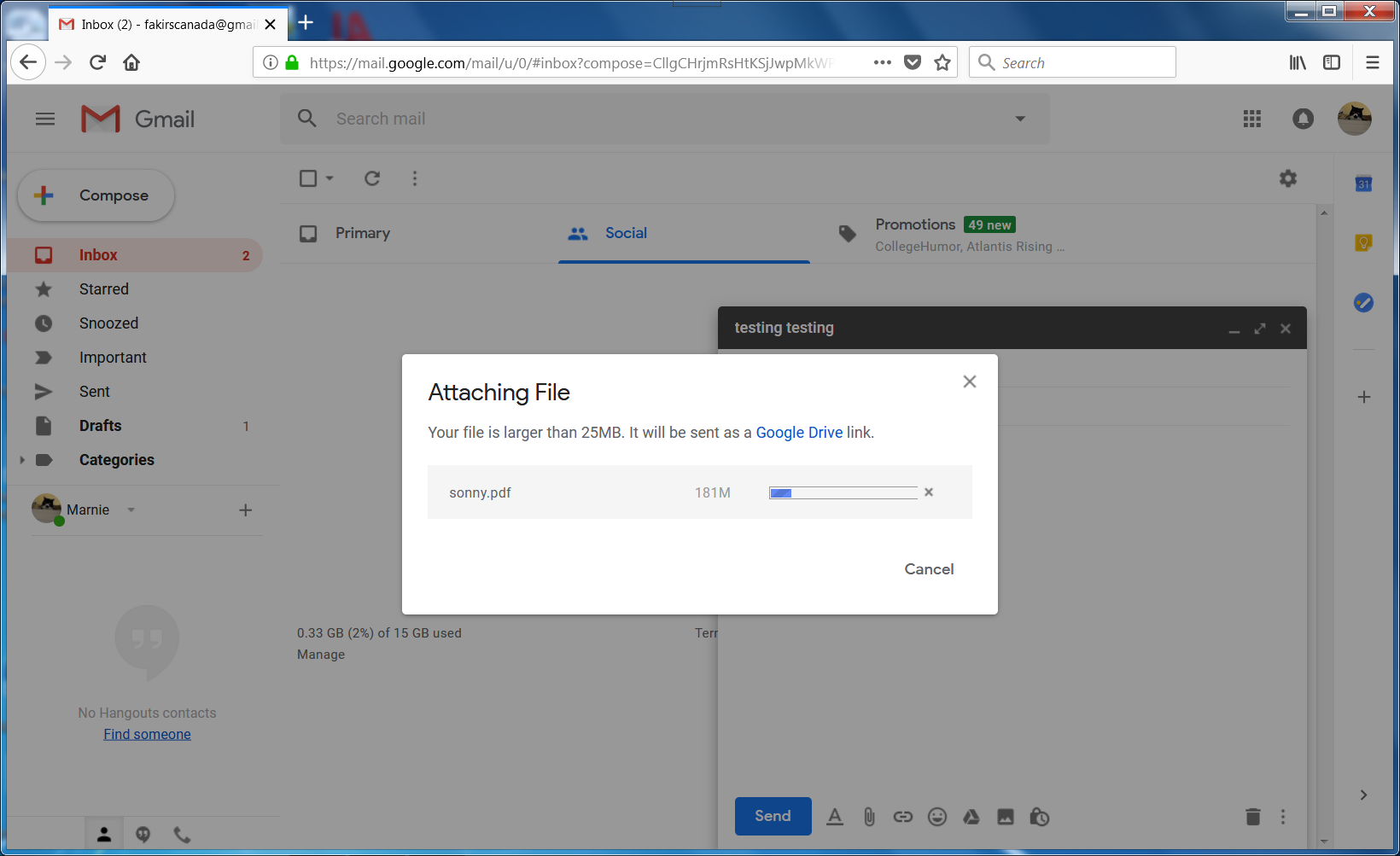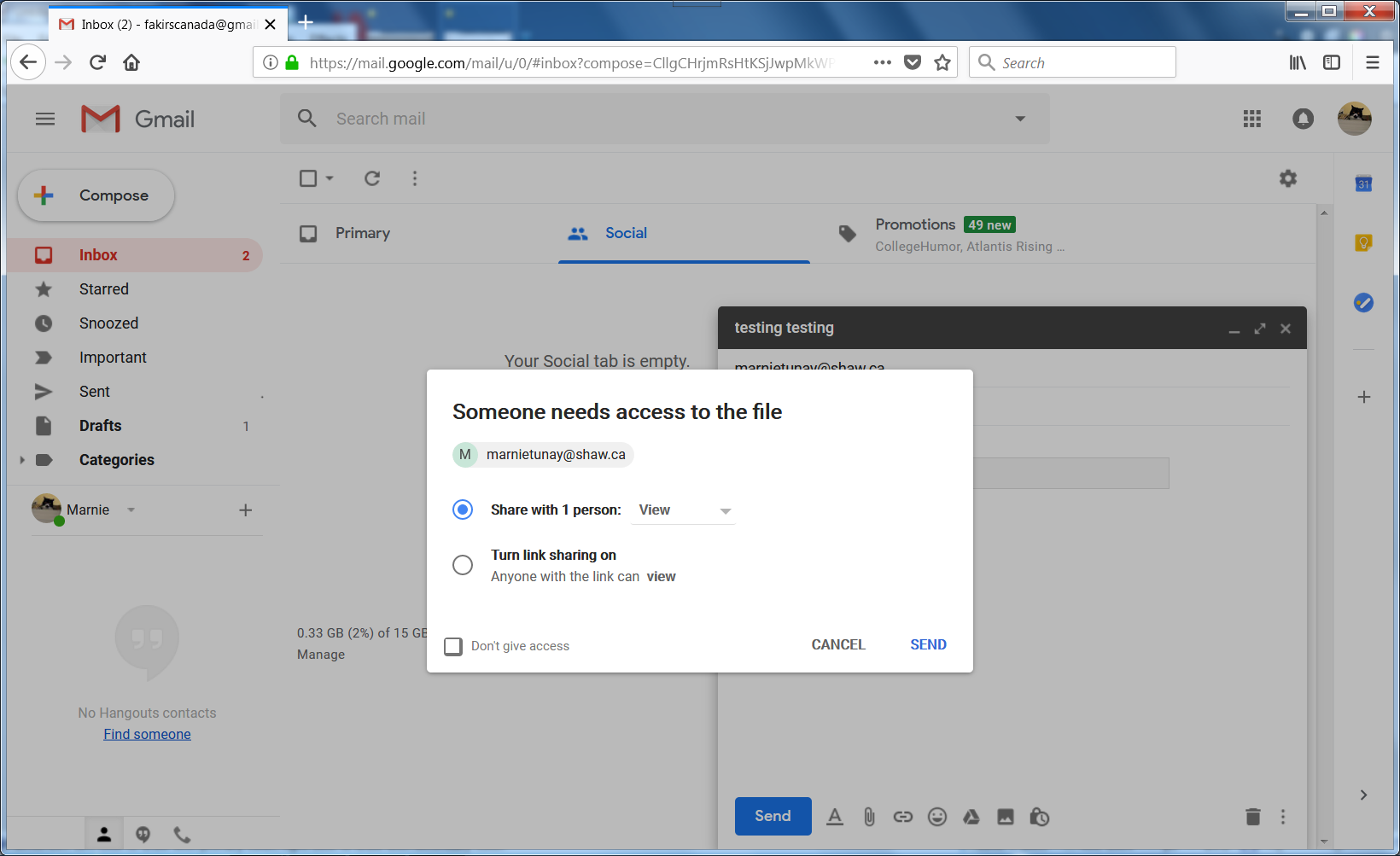 [PICS 05, 06]   from my google drive – not something any savvy business is likely to be willing to do with a random stranger from Canada, or even, I would say, with George himself, unless he owns the business center.
[24]   Of course, I have never heard from the Ojai Business Center, and I have not troubled them with an inquiry, either.  I am satisfied from my personal experience that George Christie was quite willing to re-write history, in order to be able to say that he sent me the article and not the other way around.  Moreover, he was willing to do so even in a situation where the 'benefit' to him to do so seems obscure to me (just so he didn't have to thank me for sending him the link? or, to show he wasn't rattled by the request for the article?).
Let's look at what George Christie did in that brief exchange of emails:  he failed to acknowledge that I had sent him links to the article itself as well as to the blog post by Dennis Watson that contained the link.
He then makes out the Ojai Business center to be promise breakers.
He makes a patently false statement about having received the article from them to his gmail account.  He fails to give credit where it was due and he sets up an innocent third party to take heat for a false claim he'd made about what they had supposedly promised to do.  And for what reward??
A man who will behave treacherously in a situation where the stakes would appear to be negligible to a reasonable person, will certainly behave treacherously in every situation where the stakes are higher.
Arizona
[25]   Sonny Barger moved from Oakland, California to Cave Creek, Arizona in October of 1998 ['Hells Angel, p. 250; 'Sonny 60 Years,' p. 264].   He was there for seventeen years before returning to Oakland in August of 2016 [Sonny 60 Years,' p. 270]   In '60 Years,' the only actual vignette Sonny tells from the Arizona period concerns the funeral of Hells Angel Patrick Eberhardt, [p. 269], who was the Cave Creek treasurer before he was gunned down in February of 2015:  http://www.agingrebel.com/11246
The only thing he has to say about Hoover in '60 Years' is that he joined him in Cave Creek in 1998 [p. 264].  As far as I can tell, the only time and place he has publicly discussed Hoover's death is in that June 2003 Phoenix Magazine article [cf para. 16], which is evidently also the only place he has ever discussed his third wife, Noel.
[26]   It's an odd thing, that interview series with Terry Greene Sterling.  [cf para. 16]  Odd, because it involves two Hells Angels – not known for airing their troubles to the general public, if they can possibly avoid it.  For Dennis Watson, and for myself, it reads like a human tragedy.  One is greatly tempted to come away from reading it, feeling sorry for all of them and especially for Sonny, weighed down emotionally and financially by an unstable wife and daughter.  A wife who admitted in that same article to getting money from the FBI and to signing papers saying she was an informant.
[27]   And there's "the rub of it."  Noel is no ordinary wife.  She is married to the Hells Angel who has drummed it into the Angels that the lowest thing on earth is a rat.  Then–President of the Cave Creek chapter, Hoover, is also interviewed in that Phoenix Magazine article, and he's clearly not feeling any sympathy for Noel, although he quite possibly does for Sonny.
[28]   George Christie, then–President of the Hells Angels Ventura chapter, wasn't feeling sympathy for any of them, Sonny, Noel or Hoover.  And Christie's claims in 'Exile' concerning Sonny,  Noel and Hoover form the main focus of this blog-post.
[29]    As I write, this is the profile picture on a myspace account set up in Noel's name:  https://a3-images.myspacecdn.com/images03/25/1ef7f8337c5840c6b4f3ac212c52cf78/full.jpg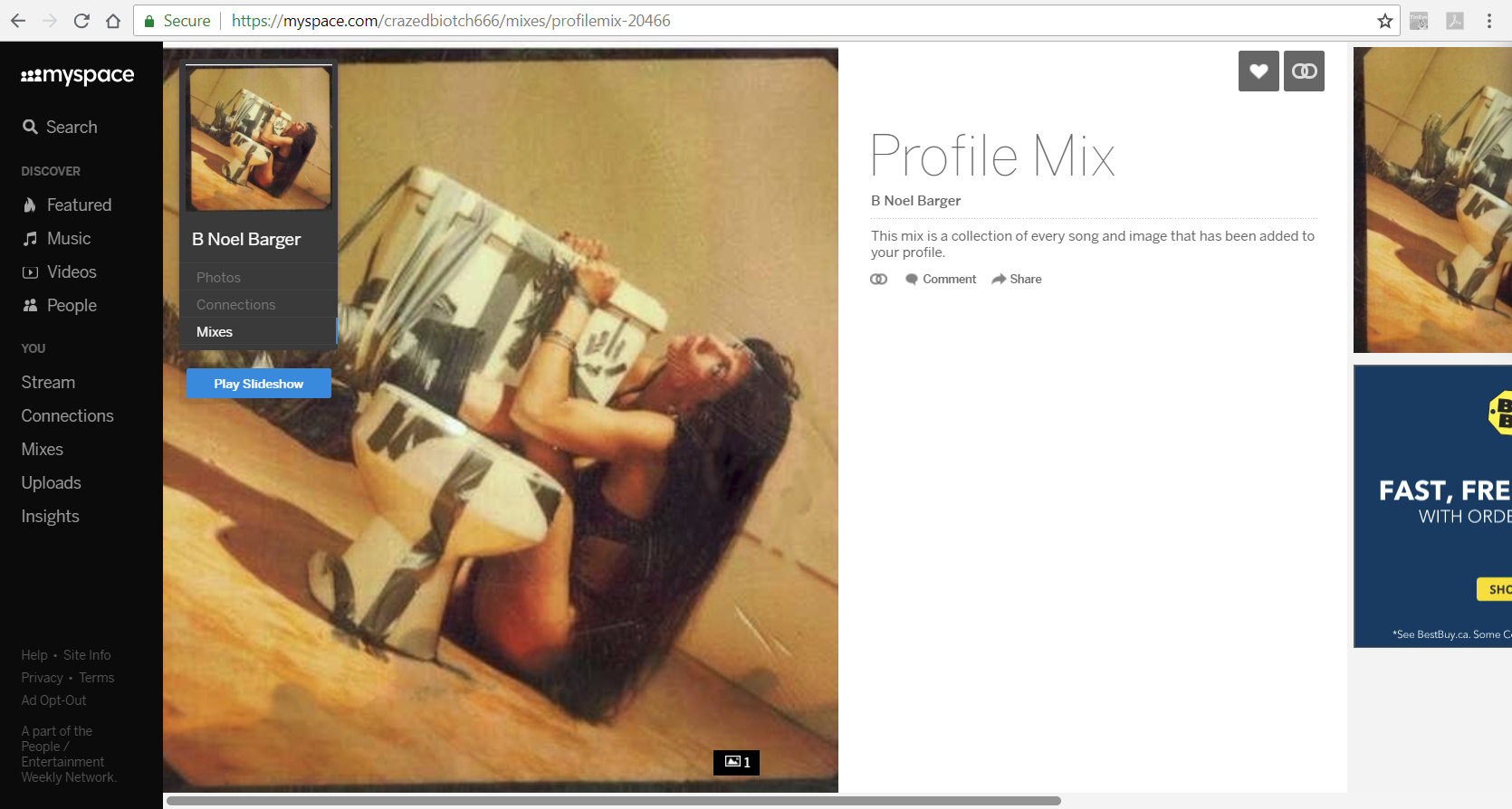 [PIC 07]
https://myspace.com/crazedbiotch666/mixes/profilemix-20466/photo/1447694
It is the only picture that has ever been added to that profile:  https://myspace.com/crazedbiotch666/mixes/profilemix-20466
[30]   The other pictures associated with the account:  https://myspace.com/crazedbiotch666/mixes
were transferred to that account from 'Classic' myspace on February 22, 2014.  Only one of them is explicitly identified as being of Sarrah:  https://myspace.com/crazedbiotch666/mixes/classic-my-photos-412063/photo/139740712
Another picture features a then-young man who is now an Arizona Hells Angel:  https://myspace.com/crazedbiotch666/mixes/classic-my-photos-412063/photo/139740691
and a young woman who is not Sarrah.  I know this because the man, whom I decline to identify (in order to protect his and his family's privacy*), is now at least sixteen years older than he was when that picture was taken, which means that the picture is at least sixteen years old.  Therefore, that young woman in the picture, who must have been at least sixteen years old when the photo was taken, would now be at least thirty-two years old.  Sarrah Barger, however – who was only thirteen years old as of June 2003 [cf. Phoenix Magazine article, link in para. 16] – would now be at most twenty-twenty-nine and possibly only twenty-eight, depending on her birth date.  Three or four years may not seem like much, and yet, the math cannot be explained away.
*There is no evidence he has done anything wrong and he may not even be aware that an old picture of his had been posted on the Noel Barger account.
[31]   Back to George Christie.  In 'Exile,' he claims to have had two significant conversations with Hoover, the second of which concerned Noel and took place "less than a month" before Hoover was gunned down.  Before I can address that alleged conversation, however, I need to discuss the first one, because it has all kinds of relevance with respect to the second one.
The first alleged conversation between George Christie and Hoover
[32]   On page 209 of 'Exile,' Christie states that, as president of the Ventura chapter, he gave the Bandidos a 'safe conduct' to travel through Arizona to a meet-up in California – and didn't inform the Arizona Hells Angels in advance.  It was an "admittedly petty" act on his part, he says, not to tell the Arizona Angels.  This happened, he says, when "Sonny was building a nice life for himself in Cave Creek," [p. 209], and when Christie [had arranged a sit-down in Ventura with the Bandidos" where George "assured George Wegers safe passage for his group to come from Texas and ride through Arizona.  In an admittedly petty move [Christie] "didn't alert the Arizona charters.  When Sonny  realized what was going on, he had Hoover call [Christie].  Not only was he opposed to hashing out peace with other clubs, [George had] broken protocol.  [Christie] could hear Sonny's rasp in the background, almost dictating to Hoover."  [p. 209]
[33]  "Look, Hoover,' George alleges he said, 'I'll do anything that I think is appropriate to end this war.  If you're having a problem with that, I don't know what to tell you.  If you're upset that they rode through Arizona and you weren't notified, I apologize."  [p. 210]  Hoover allegedly replied, "We should have gotten a call, out of respect."  George claims he answered that with:  "I'm trying to stop the war in Europe from bleeding over into the States.  I'm sure you can understand that."  "I can."  "Okay, ' George reportedly says, "Anything else Sonny wants you to tell me?"  And with that, he hung up, he says.  [p. 210]  So that summarizes the alleged first phone call with Hoover and the alleged context.  Now it's time to analyze the claims George has made about that first alleged phone call with Hoover.
[34]  The only date he gives in that same section for the phone call is when:  (i) "Sonny was building a nice life for himself in Cave Junction; " (ii) Christie "had a arranged a sit-down in Ventura with the Bandidos; and (iii)  when the Nordic Wars were still going on in Europe.
[35]  Earlier on in 'Exile,' Christie had made the claim that he had been instrumental in ending the war with the Bandidos "in 1997."  [p. 167]  And the sit-down with Bandidos President George Wegers must have happened well before then, because he says that the truce reached in 1997 took "a long time, and a lot of effort.  [p. 167]  Therefore, the phone call with Hoover could not have happened later than 1997.
[36]  Christie also states that the first call with Hoover happened when "Sonny was building a nice life for himself in Cave Creek.  He had partnered with Daniel "Hoover" Seybert, the president of the Cave Creek charter, in a North Phoenix motorcycle shop called Sonny Barger's Cave Creek Cycles.  By all accounts, Sonny considered Hoover a protégé and treated him like one… Hoover became Sonny's cutout [sic] anytime Sonny wanted to send a message to me.  The first time he was stuck in that position was after I had arranged a sit-down with the Bandidos…"  [p. 209]  So, Christie is making these claims about Hoover and Sonny and the first phone call; and, according to what he stated earlier in his book about the timing of the Bandidos truce, Hoover would have had to have become Sonny's shop partner and "cutout [sic] – by 1997 at the latest.
[37]  However, although Sonny had requested a transfer to Cave Creek in August of 1997, he didn't actually move there until October of 1998.   https://www.imdb.com/name/nm0054554/bio  [and cf para. 25]].   Therefore, that phone call between Hoover and Christie, with Sonny in the background, could not possibly have happened, and that's a fact.
[38]    Additionally, Christie's description of Hoover as living in Sonny's "dark shadow" comes immediately after Christie has described what appears to be a comfortable and profitable relationship between Hoover and Sonny:  "By all accounts, Sonny considered  Hoover a protégé and treated him like a son."  [p. 209]  Christie's innuendo regarding 'the darkest part of Sonny's shadow' is without any basis given for it in the context of Hoover's relationship with Sonny.  It suggests to me that Christie was really talking about himself in that sentence, that he felt himself to be standing in "the darkest part of Sonny's shadow;' in other words, that Sonny overshadowed George, had the power, the status and the limelight that George Christie claimed for himself.
I just want to say at this point that I am no friend of the Hells Angels.  I became absolutely averse to their very existence as a "club" during the murderous rampage in Quebec led by Maurice Boucher and his thugs:   https://en.wikipedia.org/wiki/Maurice_Boucher
When Boucher  had two innocent adults killed, and the Quebec Angels allowed an innocent eleven-year-old bystander to die as 'collateral damage' in a biker war, then I understood in my heart that the Angels don't give a rat's ass about any of the rest of us.  They really don't.
And one of the things I find most irritating about George Christie is that his dissembling tempts me to want to feel sorry for them.  He doesn't just shade Sonny in 'Exile;' he shades pretty much almost everyone else too, excepting only:  his lawyers, his autistic son, his second wife and his daughter the lawyer.  And a couple of dead Hells Angels.
Especially, he slams his first wife, the mother of most of his kids, every chance he gets in that book.  He gives her credit for nothing, and he blames himself for nothing.  And the poor thing can't even defend herself, because she's dead now.  It's not ol' George's fault that, breaking club rules to bring George Junior into the club at age 17, –  over the (quite understandable)  protests of some of the members – didn't work out for Junior.  It's not because maybe, there's a good reason for that 'must be 21' rule, that things don't work out, no, no; according to George, it's all because his first wife turned Junior into a mama's boy.  [p. 202, p. 227] [see also para. 41]
I can just see how it must have been for the Hells Angels for years, sensing there was something wrong with Christie's versions of reality, never quite being able to catch him out in an outright lie, afraid to call out a club officer, afraid even to talk about Christie behind his back [cf. para. 44].  It grates me, being compelled to  feel a smidgen of pity for their predicament:  like any good con man, he could out-talk them.  He's fooled people who really should know better, too.
I say all this because I want readers to know that I wanted to believe George Christie was credible.  But, I had to go where the facts led me;  and the facts did not lead me to believe that George Christie is remotely credible on any subject – except for what he unwittingly reveals about himself in his own statements.
[39]   Back to George Christie's claims regarding the truce with the Bandidos and his first phone call with Hoover:  What that passage does reliably reveal, in my opinion is something about George Christie:  that he was willing, by his own account, to betray his "good friend" George Wegers, then-president of the Bandidos [p. 167], even to the possibility of the latter's death at the hands of the Arizona Hells Angels.  He calls it his deliberate refusal to inform the Arizona Hells Angels about his promise to the Bandidos a "petty" move.  I would say that a more accurate description of promising someone – a "good friend," yet!  –   safe conduct when you know damn well they're not going to have it – that's an act of unbounded treachery.
The only thing George could have been secretly hoping for, in my opinion, is that somebody on Sonny's turf would attack the friend who's been promised safe conduct; and then, he could  denounce Sonny, claim he gave the safe conduct and then the third party, Sonny, broke it.  See, even if it didn't actually happen that way, his account of it shows, nevertheless,  what George Christie was willing to do, in my opinion.
[40]  Christie claims he's maintained a good relationship with George Wegers "until this day."  [p. 167]  In that case, Wegers must not have heard the story of how Christie claims he screwed Wegers over regarding that 'safe conduct.'
[41]  Moreover, it's clear from 'Exile' that George is willing to break the rules when it suits him and just over-ride any objections:
"A year later [c. 1993**], Georgie [Christie's son] got his patch and became the youngest Hells Angel in the world.  It was a violation of the club rules.  Prospects have to prove they are at least twenty-one to become a member.  Georgie had grown up around the club.  Everyone knew he was seventeen.  At the first officers' meeting after Georgie was voted in, more than one old-timer let me know that several members weren't at all pleased about the move.  [p. 166]
** http://www.agingrebel.com/13268
The Second Alleged Conversation between George Christie and Hoover
[42]   Now, on to the second conversation George alleges he had with Hoover, "less than a month" before Hoover was murdered.  Christie claims they "ran into each other at a West Coast Officer's meeting in 2003," [page 210], at which time Hoover allegedly tried to get Ventura HA President Christie's  sanction to "eighty-six" Noel Barger, on account of her having allegedly been an "informant."   In that Phoenix Magazine article, Noel outlines exactly what it means to be 'eighty-sixed.'  [cf. para. 16 for link to article]  It's the Hells Angels version of being 'sent to Coventry,' which includes becoming "a walking target."
[43]   So, what does George Christie say his reply was to Hoover?  "Do what you know is the right thing to do."  And what is Hoover's response?  "Yeah, okay."  I think it's safe to say that Hoover would have taken Christie's response as an assent to 'eighty-sixing' Noel, because, what Christie doesn't say, is that that Hoover argued with him about Christie's answer.
[44]   It's also clear that Christie is trying to protect himself in his book from any accusation that he gave Hoover the go-ahead to kill Noel.  But, what was George actually willing to see happen to Noel at that point?
[45]   Earlier in his book, George makes it clear he was willing to kill fellow Ventura Angel Jim Clark on hearsay from another Angel that Clark had gone "on a smear campaign" against Christie [p. 135 – 36].  Oh, and Clark was "sarcastic and condescending" on the phone to Christie, [p. 36]:  "The first thing I did once I was back was to straighten out Jim Clark.  David and I took Jim for a walk five blocks down to the Ventura River, on the other side of the Ojai Freeway.  It was a desolate location.  We didn't say a word until we got to the edge of the river.  "You know, Jim, I don't think this charter is big enough for both of us.  I don't want you here anymore."  "I'm not going anywhere."  "Well, let me tell you something.  See the river?  At the bottom of that river is an eternity.  And if you don't leave Ventura, that's where you're going to be."  [p. 141]
So, he was willing to kill a fellow Angel for what most people outside of a gang would consider to be very small grounds for killing someone:  namely, for being someone whom George had a grudge against and who was living in the same city as he was.  (And again, not the perspective of a true peacemaker, I think most would agree.)
[46]   Moreover, according to Christie himself, he was number one on the cop's suspect list in the murder of Hoover "less than a month" after that second alleged conversation with Hoover.  In 'Exile,' he says:  "The word among law enforcement was that I put a hit on Hoover in retaliation for Josh's murder.*  Some Hells Angels thought the same thing.  But even if I had the power, I wouldn't have used it.  Hoover was headed in the right direction.**   He wanted to be a peacemaker and the club badly needed someone besides me to step up to fill that role.***  But I also believe that the murder will never be solved because too many people don't want it to be.  As always, law enforcement didn't care.  A dead Hells Angel was just one less problem as far as the cops were concerned.****
* Joshua William Harber:    http://articles.latimes.com/2002/jun/12/local/me-angel12
As of June 23, 2017, a Mongols member has been charged with Josh's killing:  http://www.latimes.com/local/lanow/la-me-ln-mongols-hells-angels-murder-charges-20170623-story.html  But, note how Christie tries to implicate the Cave Creek Angels in the hit on Josh.
**  And also with, presumably, his plan to 'eighty-six' Noel Barger, with whatever that might have entailed.
***  No doubt, eh.
 ****  That's rich, coming from George Christie, who allowed Hells Angel prospect Thomas Heath and Angel Brett Eaton to get away with the murder of an innocent fifteen-year-old that Christie alleges they committed:  "Tom Heath walked a flat motorcycle tire into the Frame-Up.  Brett Eaton had rigged a bomb inside the tire, so that it would detonate when the tire valve was unscrewed…. The bomb  contacts came together, and Mongol and teenager were instantly killed in a blast that blew the windows out of the buildings on either side of the shop… It was a joke to [Heath].  For days, he went on about the explosion."  [p. 75 – 76]
Christie goes on to claim that "Justice would be served decades later when Heath was sentenced thirty-five to life for a domestic dispute beef that bought him a "third strike" conviction."  [p. 76]
No, George, justice wasn't really served  – in the murder of Raymond Hernandez.
[47]  Back to Noel Barger.  For the record, I don't think, gauging from the Phoenix Magazine account, that Noel Barger was an "informant" in any real sense of the word, and I think Sonny understood that.  That's why he did the article, I am inclined to think, to show that he stood by her in a sense, even if he was going to divorce her.
When she signed whatever papers the FBI agent put in front of her, she was in the hospital, most likely whacked out on pain-killers, and very, very pissed off, no doubt, since it was her husband who had put her there.  She needed to be separate from him for at least awhile,  until things cooled down, and she needed some money to do that.  Most probably, the FBI agent had to have a rationale for giving her the money she needed, and perhaps the option of simply labelling her a 'material witness' in the assault was not enough to open up the public purse.
Once she had somewhat recovered, she (and Sonny) realized the enormity of what she'd inadvertently done:  labelled herself as an FBI informant.  I think he was most likely trying to keep her from getting killed.  Sarrah, according to that article, had "run away."  I really doubt that.  I think Noel sent her away, to try to keep her from getting killed, too, in the manner that Margo Compton and her daughters had been murdered.  [cf. para. 04]
[48]   Noel was bi-polar; and that was a condition still poorly understood in 2002.  Hoover was clearly fed up with dealing with her, and, to be frank, he seems to me to have been kind of a slow boat:**  not really capable of dealing with the nuances of Noel's situation.  It didn't help that he was single, and therefore probably  not really capable of empathizing with the sometimes stormy waters that every marriage sails through occasionally.  So, who Hoover chooses to vent to, of all people, is a Phoenix Magazine reporter.  And now every Hells Angel and every 'Club 81' supporter in all of Arizona knows that the President of Cave Creek would really, really like to see the back of Noel Barger, who is now officially labelled as an "FBI informant."  Gee, what could go wrong with that?
**  In the interview with 'The Independent' in August of 2000, https://www.independent.co.uk/arts-entertainment/books/features/an-angel-at-my-table-697297.html   the interviewer says:  "I later ask Hoover if he's read Sonny's book. "I tried, but my eyes just kept closing."  (Really??  Sonny's book is not rocket science; moreover,  it's quite well written and the stories are very interesting.  I hate to shade the dead, but Hoover's reply sounds to me like he was a bit of a slow boat.)
[49]   Back to the question of what exactly George Christie was probably willing to see happen to Noel Barger.   Let's go back for a moment to what he said about Hoover's death.  "The word among law enforcement was that I put a hit on Hoover in retaliation for Josh's murder…. But even if I had that power, I wouldn't have used it.  Hoover was headed in the right direction…"  [p. 211]   So, why wouldn't he have put a hit on Hoover?  Because murdering people is a wrong thing to do?  Nope.  That's not the reason.  The reason he wouldn't have put a hit on Hoover was, "because Hoover was headed in the right direction."
Now, what that suggests to me right there is, that George Christie was perfectly willing to put a hit out on someone, even another Hells Angel,  – if he thought they were headed in the 'wrong' direction.  And we have already seen [para. 45] that George's own account of himself is that he was perfectly willing to kill even a Hells Angel if he thought that man was in his way.
Moreover, if Hoover comes across as a bit 'slow' in that August 2000 'Independent' article:  https://www.independent.co.uk/arts-entertainment/books/features/an-angel-at-my-table-697297.html   he also comes across as being highly respectful, even deferential, to Sonny.  It's hard to believe that he would have gone behind Sonny's back to consult with George Christie on any matter at all, much less one that involved the Cave Creek charter and Sonny's wife.
[50]  For much of 2002 through 2004, ATF agents were conducting an undercover operation in Arizona concerning a deadly shoot-out between Hells Angels and Mongols in Laughlin, Nevada:  https://en.wikipedia.org/wiki/Jay_Dobyns#Hells_Angels_infiltration:_%22Operation_Black_Biscuit%22
[51]  Black Biscuit eventually resulted in a number of murder and assault  convictions, both in the Laughlin shoot-out:  https://groups.google.com/forum/#!topic/alt.true-crime/5A4PVayrAaw
https://www.reviewjournal.com/news/hells-angel-pleads-guilty-in-2002-laughlin-river-run-melee/
https://www.deseretnews.com/article/660198376/2-Hells-Angels-receive-prison-time-over-melee.html
https://kdminer.com/news/2007/jan/15/hells-angel-gets-4-years-for-part-in-laughlin-bra/
https://www.eastbaytimes.com/2008/11/21/hells-angels-member-pleads-guilty-in-fatal-melee/
https://lasvegassun.com/news/2003/dec/05/three-hells-angels-indicted-in-arizona/
http://legacy.sandiegouniontribune.com/uniontrib/20080124/news_1ez24dumont.html
https://www.reviewjournal.com/news/fugitive-biker-surrenders/
as well as in the 2001 vicious murder of Cynthia Yvonne Garcia, a mother of five children, by three Hells Angels in the Mesa, Arizona Hells Angels club-house.
The Angels sang their standard song when one of their own gets busted:  "He didn't do it; it was the rat who informed on him who did it."  [cf. para. 04]  But, innocent people don't run away.  Especially not innocent people who can afford good lawyers, as stock-broker/Hells Angel prospect Paul Eischeid certainly could.  https://www.washingtonpost.com/news/morning-mix/wp/2018/07/25/stockbroker-by-day-alleged-violent-hells-angel-by-night-15-years-after-his-arrest-fugitive-biker-back-for-murder-case/?noredirect=on&utm_term=.1b5a7f619762   In March of 2012, Hells Angel Kevin Augustiniak, who had previously pled guilty to the murder of Cynthia Yvonne Garcia in Phoenix in October 2001, was convicted:    http://www.agingrebel.com/5411
[52]  Hells Angels have slammed Jay Dobyns, both for the job he did and for "betraying his brothers," meaning them.  However, the judge who presided over 'Black Biscuit' evidentiary hearings clearly did not agree at all that Dobyns and his team had done a bad job:    https://www.gpo.gov/fdsys/pkg/USCOURTS-azd-2_03-cr-01167/pdf/USCOURTS-azd-2_03-cr-01167-10.pdf     and you'll note that clearly, there was evidence, because that's what the defendants,  Robert J. "Bad Bob" Johnston Jr, 48, then-President of the HA Mesa chapter, and Hells Angels Calvin Schaefer, 34, and Donald Smith, 53 were trying to get suppressed.  And as for their complaint that Jay 'betrayed' them, this just goes to show how successful he was at infiltrating them; they still don't really 'get' that he was never their friend; he was a cop who was doing his job.
[53]  Jay Dobyns in 2015 on threats received concerning him and his family:  https://youtu.be/qFaHmoaRgbk
"These guys, [the Hells Angels] they have their PhD's in violence and intimidation." [at 10:14]
A judge agreed that Dobyns had been harassed and intimidated by the Hells Angels:
http://www.foxnews.com/politics/2014/09/16/judge-rebukes-atf-for-gaps-in-protecting-agent-who-infiltrated-hells-angels.html
[54]  My point about Jay Dobyns and his credible claims of being harassed even to the point of having his house fire-bombed, is that, Angels who would be willing to kill an ATF agent for having done his job, would certainly be willing, in my opinion, to kill the "paid FBI informant wife" of a Hells Angel.
[55]  There is also a facebook page in the married name of Noel Barger:  https://www.facebook.com/noel.barger
Like myspace, it's very easy to set up a FB account in any name you want, using a gmail address under any name that pleases you.  It's easy to fake a timeline, too, by creating 'events' on myspace.  Two of the pictures in the Noel Barger photo album are anomalous.  Although they a part of a series intended to portray several moments in the same sequence of time, the marks on the cheeks don't match up, and neither does the silver in the hair: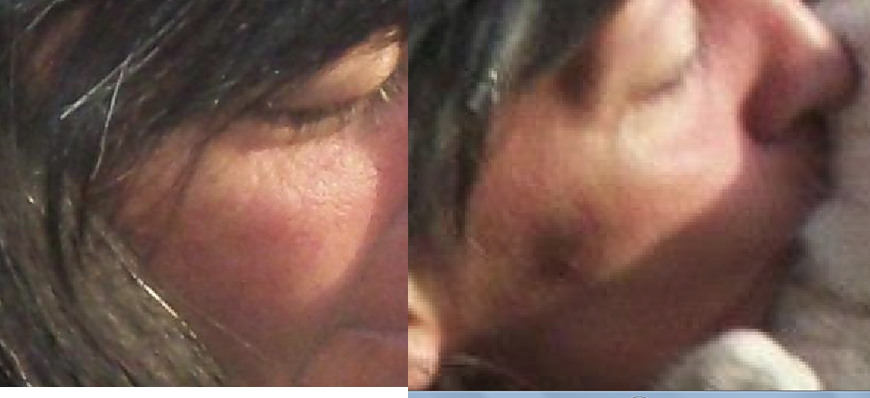 [PIC 08]   There is also a smaller version of the myspace profile picture in the facebook profile pictures.  The profile is completely unresponsive, as far as I could tell, to anything posted by any of its discernible contacts.
The State of California and the Hells Angels Motorcycle Corporation
[56]  Any organization claiming non-profit status should be forced to post a copy of their bylaws – and the penalties that will be applied for members who fail to obey or enforce those bylaws – at every site where the non-profit operates, as well as online at the state and federal levels, freely accessible to the public.  The bylaws must conform to all statutes and democratic principles.  If board members are found to have turned a blind eye to egregious violations of those bylaws, then the non-profit status should be put in jeopardy.
[57]  Sonny Barger taught his step-daughter that "it's okay to the lie to the cops, because they lie to us:"  By the same kind of reasoning, it should be okay to strip the tax-free status from groups who want to cash in on democratic rights and freedoms – but flout the principles on which those rights and freedoms have their standing.
[58]  Furthermore, the tax laws need to be changed on the federal level, to lock it down that non-profits need to obey all applicable state laws in order to retain their tax-free status.
What kind of organization it is, shouldn't enter into that equation.  A self-proclaimed 'religious' organization like Scientology should not have special carte blanche to violate state laws on libel and harassment, just because it Calls itself a religion.
[59]  I find it astounding that these changes to the laws were not enacted years ago.  Law enforcement agencies should consider class action lawsuits against the state of California, for harboring so many rogue groups.  If I had a problem with one of them, I would certainly be looking at suing the state of California for having enabled the group to operate illegally with tax-exempt status, for so many decades.
[60]  The Hells Angels are the very first to cry [para. 07] when they think their democratic rights are being stepped on.   As this blog-post has made abundantly clear, however, they don't really think the rest of us have any rights – not if we cross any of them to even the smallest degree.  [cf. para. 05]  The murder convictions of three Alberta Hells Angels in Greece who killed a man who just wanted his bike back make it very clear what the Hells Angels are all about.  They're not 'out in bad standings,' either.  They're still Hells Angels.
[61]It's time to make them live up to the democratic principles those rights were founded upon, or make them pay.  Their fines should go straight into the coffers of the law enforcement agency that had to deal with them.
Recommended further reading:
Hell's Angel, the Life and Times of Sonny Barger and the Hell's Angels Motorcycle Club by Sonny Barger, [and yes he does spell it that way].  First edition, 2001.  Collector's edition, undated.  The book is well written, with a great many interesting stories.  The collector's edition, available from Sonny's web-site:  http://sonnybarger.com/ is signed, numbered and nicely bound.  I think it represents a good value for book collectors.
No Angel by Jay Dobyns with Nils Johnson-Shelton, paperback edition, 2009.  A riveting and detailed account of the ATF 'Black Biscuit Operation in Arizona to investigate the Laughlin shoot-out as well as the murder of Cynthia Garcia.  Catching Hell:  A True Story of Abandonment and Betrayal, hard-cover edition, 2018, makes for fairly grim reading, but there are moments of light, hope and humor as well.
Angels of Death by William Marsden and Julian Sher, hardcover edition, 2006, has a good chapter on the Arizona undercover operation.
Sonny:  60 Years Hells Angels is published by Serious Publishing in Paris, France.  It consists of a great many photos from the archives of the Oakland Hells Angels, and a rather sparse text by Sonny Barger.  The photos have been expertly re-produced.
Exile On Front Street by George Christie, hardcover edition, 2016, has photos and is well-written.  Best read with an eye to what George Christie is saying about himself, in my opinion.