that he is not having senior citizens arrested for feeding the poor – contrary to recent media reports, such as this one, for instance:    http://globalnews.ca/news/1655630/90-year-old-man-arrested-for-feeding-homeless-in-florida/
After I read that news item on November 05, I sent the mayor of Fort Lauderdale, Jack Seiler, the following email:
"as per:  http://globalnews.ca/news/1655630/90-year-old-man-arrested-for-feeding-homeless-in-florida/
You people are bizarre.  Don't you have any Real crimes to solve?
Note to self:  Stay the hell away from the Grinches in Fort Lauderdale next time I want to fly south for Xmas.  Sheesh."
A few hours later, I received the following reply from Mr. Seiler:
"Thanks for your input and for caring.  I truly appreciate the concern.
Perhaps you are not aware that I do substantial charitable work for the homeless here in South Florida, volunteer at the local homeless assistance center, contribute financially to assist homeless programs and benefits, and work on several successful homeless veterans programs and projects.
We did not realize that requiring the homeless be fed in safe, secure and sanitary conditions would be deemed an attack on the homeless.  We did not ban feeding the homeless in the City of Fort Lauderdale, we only regulated the location of those feedings.
Further, the cycle of homeless and homelessness on the streets of Fort Lauderdale is unacceptable, and I will do everything possible to get them off the streets and into the right programs, to the appropriate facilities, and to the proper resources necessary to turn their lives around.
Your assistance is also appreciated.
Best wishes.
John P. "Jack" Seiler
Mayor
City of Fort Lauderdale"
I promptly responded to that email from Mr. Seiler as follows:
"Fair enough.  But it strikes me, sir, that it would be better politics to find a way to work  With other people who are trying to feed the poor, rather than whacking them with heavy fines.
Perhaps your caregiving locations regulation is unreasonably strict, I don't know.  I've been to Florida but not to Fort Lauderdale.  You can't have the newspapers reporting that you fined some old guy for feeding the hungry.  You just can't.
Thanks for your reply.  Best wishes.
Marnie Tunay"
Yesterday afternoon, I heard from the mayor again, and, although I'm not in the habit of giving politicians a platform on this blog, I nevertheless think that, in this instance, Mayor Seiler has  earned a chance to be heard here:
"I appreciate the opportunity to clarify much of the misinformation that has been prevalent in the media recently regarding the homeless.
 Contrary to reports, the City of Fort Lauderdale is not banning groups from feeding the homeless.  We have established an outdoor food distribution ordinance to ensure the health, safety and welfare of our community. The ordinance does not prohibit feeding the homeless; it regulates the activity in order to ensure it is carried out in an appropriate, organized, clean and healthy manner.
 While the ordinance regulates outdoor food distribution, it permits indoor food distribution to take place at houses of worship throughout the City.  By allowing houses of worship to conduct this activity, the City is actually increasing the number of locations where the homeless can properly receive this service.
 At two recent outdoor food distributions, citations were rightly issued for non-compliance with the process enacted to ensure public health and safety.  Contrary to what was reported in the media, no one was taken into custody.  Had these activities taken place indoors, at a house of worship, they would have been in full compliance with the ordinance.
 Experts agree, however, that homeless individuals need more than just food.  The homeless need shelter, clothing, and comprehensive medical and social services in order to help them get back on their feet.
To set the record straight, few cities have done more for the homeless than Fort Lauderdale.  We are taking a comprehensive approach by working with numerous agencies, non-profit, charitable and faith-based organizations that, like us, are dedicated to effectively addressing this complex and important issue.  Our overarching goal is to provide a long-term comprehensive solution for the homeless population.  While aiming for that goal, we are concurrently working to protect public safety and maintain quality of life for our neighbors, businesses and visitors. 
 Our efforts include:
Fort Lauderdale was the first City in South Florida to establish a dedicated Homeless Assistance Unit as part of its Police Department. This Unit makes approximately 8,000 referrals a year working with the homeless to provide them with access to housing, critical medical care and social services.  The award-winning initiative stands as a model that has been replicated by local, state, and national police departments and law enforcement agencies across the country.
Fort Lauderdale is home to the only full service comprehensive Homeless Assistance Center in Broward County. The Center has been operating here since 1999.  Recently, the Fort Lauderdale City Commission unanimously passed an ordinance allowing the Homeless Assistance Center to expand its size and scope of operations to accommodate more beds and serve more homeless.
The City maintains an active partnership with Mission United, an organization dedicated to providing housing and social services to homeless Veterans.
In addition to Mission United, the City maintains partnerships, provides resources and support to Broward County, the Broward Partnership for the Homeless, Housing Authority of the City of Fort Lauderdale, Salvation Army of Broward County, United Way of Broward County, Hope South Florida, and the Task Force for Ending Homelessness. These partnerships represent an outstanding example of how homelessness needs to be addressed – by bringing together a variety of agencies and organizations to collaborate, share resources, and leverage strengths in a unified effort to comprehensively impact homelessness through the coordination and delivery of essential programs and services.
Fort Lauderdale is the only city in South Florida and one of 235 communities in the United States taking part in the 100,000 Homes Campaign, a national effort to move disabled, chronically homeless people from the street to a place of their own. Using the motto "Housing First," the campaign reverses the traditional approach that required the homeless to go through addiction counseling and job training before earning a roof over their heads.
Through the Housing First program, Fort Lauderdale is providing the most vulnerable homeless individuals with housing, medical, and social services. The program is funded by a $441,000 federal grant that the City of Fort Lauderdale secured from HUD.  It is currently providing permanent supportive housing for 22 chronically homeless people.
The City is proud to report that our initiative was recently re-funded by HUD.  During the current year, we will have an additional $455,000 to continue to operate and expand this effort to serve even more chronic and vulnerable homeless in our City.
As part of our comprehensive strategy, the City has passed new ordinances that aim to reduce the public safety hazards and inappropriate nuisance activities that are negatively impacting our community.  As a City, we have a responsibility to ensure that all of our public spaces are accessible and can be safely enjoyed by everyone – families, children, residents and visitors. 
Our quality of life in Fort Lauderdale and our economic viability are directly linked to our stewardship of public spaces.   The City continues to provide leadership in the implementation of innovative ideas to protect our quality of life while ensuring continued funding for programs and initiatives that address humanitarian needs.
The City, our neighbors, and our businesses have a long and distinguished history of compassion toward those in need. 
If you would like to make a contribution to local non-profit agencies that help fund homeless assistance, substance abuse, and community support services in Fort Lauderdale, please visit:  www.fortlauderdale.gov/give
Again, thank you for your interest in this important humanitarian issue.
John P. "Jack" Seiler
Mayor
City of Fort Lauderdale"
If The Associated Press, who seems to be the source of the story, falsely reported that someone was arrested for feeding homeless people in Fort Lauderdale, then I should think that would be considered reporting shoddy enough to merit someone's getting fired.  So, I've fired off an email to 'Media Relations' at the Press, in query:
"I'm writing in connection with your report that a "90-year-old man was arrested for feeding the homeless in Florida,"
as per here:  http://globalnews.ca/news/1655630/90-year-old-man-arrested-for-feeding-homeless-in-florida/
I contacted the mayor of Fort Lauderdale, and we've exchanged several emails concerning this matter.
He says, and I quote:  "nobody was taken into custody."
If your reporter(s) falsely reported that someone was arrested, then that is remarkably shoddy reporting.
I would like to know the truth of the matter, please, and, as I am a blogger:
https://marnietunay2.wordpress.com/
I think my readers would like to know it, too.
Thank you for your timely response.
Marnie Tunay"
and, if I hear back from them, I'll be sure to let you know.  Ciao for now.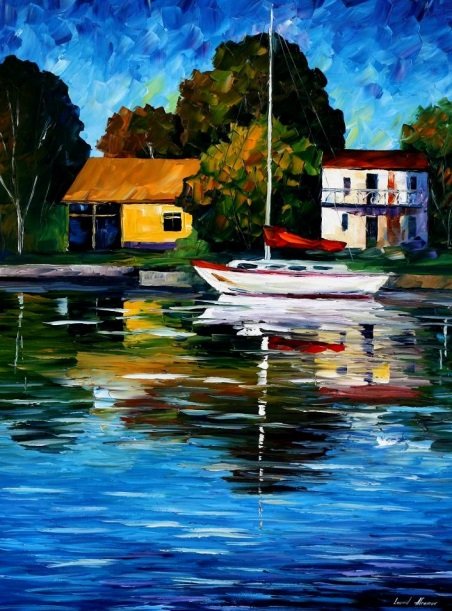 The  painting by Leonid Afremov of Fort Lauderdale, Florida, is listed for sale at this URL:  http://www.deviantart.com/art/FT-LAUDERDALE-FLORIDA-AFREMOV-155042218
………………
November 14, 2014 update:
Wow.  A lot of people seem to care what the mayor of Fort Lauderdale thinks about feeding the homeless… Unfortunately, the 'Associated Press' isn't among them.  I have not heard back from the 'Press' about their claim that a 90-year-old man was arrested for feeding the homeless.  So that's the end of that….
Ironically, the Associated Press has recently been in the news in connection with an FBI agent who allegedly pretended to be an AP reporter:
http://www.theguardian.com/us-news/2014/nov/07/fbi-james-comey-agent-impersonate-ap-reporter-investigation
The ironic part is the AP squawking about the "misappropriation of" their "trusted name." I wonder how many people there are who actually trust the Associated Press more than they do the FBI.