February 20, 2015:  Okay, it's time to update this post.  I haven't seen the finale of the show 'Two and a Half Men' because I just haven't been that desperate* for comedy lately, but I've read a good summary in the Calgary Sun today:  http://www.calgarysun.com/2015/02/19/two-and-a-half-men-says-goodbye-in-a-truly-bizarre-way   Spoiler alert:  there's no Charlie Sheen in the finale except in name only.  And the reasons given by Chuck Lorre, who claims Sheen was in fact offered a part in the final episode, are really quite revealing, not of Charlie Sheen, but of Chuck Lorre.  Everyone who's read this post can see I'm no fan of Charlie Sheen's, but, Chuck Lorre allowed his own hostility towards Sheen get the better of his professionalism (such as it was)** with respect to that final episode.  In his statement regarding the role Sheen was offered, Chuck Lorre shows himself to be a remarkably petty and vindictive man.  He didn't have to offer Sheen a role; that was his right as producer.  But the role that he did offer Sheen, and his comments concerning the same, make my skin crawl.  And, crawling, is clearly what he wanted Charlie Sheen to do.
*Charlie Sheen was right about one thing:  Two and A Half Men totally sucked without him.
**Lorre's stupid 'vanity plates:'  was anyone anywhere ever so desperate to murder seven minutes of their life as to actually read one of those things all the way through?  They're aptly named though.
………………
  "Gargoyle on outside portal to Eastern State Penitentiary, Philadelphia, Pennsylvania" photo by https://commons.wikimedia.org/wiki/User:Dorevabelfiore  creative attribution, share-alike license
……………….
Post-script, October 02, 2014:  According to an exclusive story today by TMZ, Charlie Sheen is now under investigation by the LAPD, for going after his dentist with a knife, allegedly in a rock cocaine-fueled rage:  http://www.tmz.com/2014/10/02/charlie-sheen-dentist-assault-knife-cocaine-investigation/
update to the update:  Charlie Sheen's team has admitted he "went crazy" on the dental chair, but denies that a knife or cocaine or an assault were involved.  Sheen and his spin team claim the rest of the story was made up by the dental technician, who allegedly got fired for telling her son Sheen was in the office.  Sheen's "personal dentist" supports the Sheen team's denial of a knife or an attack.  http://www.tmz.com/2014/10/02/charlie-sheen-drugs-dentist-knife-crazy-nitrous-oxide/  So, I guess it's a question of who you wanna believe, in the  latest of a very long list of allegations of violence, cocaine and assaults involving Charlie Sheen over the years:  a technician who lost her job, or, a "personal dentist" who wants to keep his….
I reckon if I was Charlie Sheen, I wouldn't be rushing to the defamation court on this one.
*************
Charlie Sheen used to be one of the most successful actors on television.  Over the past few years, step by step, through his own choices, that success has begun to slip away from him. The only person who evidently doesn't see what's happening to him is Charlie Sheen.  For everyone else, he's become, as one wit observed, "a demotivational poster" unto himself.
Sheen's slide into oblivion, probably irreversible now, became discernible in March of 2011, when he was finally fired from his hit series 'Two and a Half Men," after unleashing a torrent of public verbal abuse at the show's producer, Chuck Lorre.
http://www.bbc.com/news/world-us-canada-12671785
But, the subsequent long slide down has accelerated over the past year, (as slides tend to do, once they've picked up some momentum).  In December of 2013, Sheen's three most loyal and long-serving advisers: manager Mark Burg, publicist Larry Solters and entertain-ment lawyer Jake Bloom, all came to an acrimonious parting of ways with Sheen, over his six-week association with a young porn actress in particular,  and his "increasingly erratic and bizarre behavior and outrageous statements"  in general:
http://radaronline.com/exclusives/2013/12/charlie-sheen-three-most-loyal-advisors-quit/
Then, in May of 2014, Charlie Sheen kicked his loyal and remarkably long-suffering ex-wife Denise Richards and his two young daughters out of the house he'd bought for them:
http://radaronline.com/exclusives/2014/05/charlie-sheen-kicks-denise-richards-out-mansion/
This week, Charlie Sheen's chilling pattern continued, of isolating himself from the people who had cared about him and stayed loyal to him through his moods and meltdowns over long periods of time, with the abrupt firing of his long-time bodyguard, Gil Peled:
http://radaronline.com/exclusives/2014/09/charlie-sheen-fires-head-security-meltdown/
And here's the new guy, visibly embarrassed.  taking Charlie Sheen for a walk:
http://radaronline.com/photos/charlie-sheen-drunk-los-angeles-bodyguard/photo/792840/
……………………..
Seriously, it's like watching a slow-mo episode of 'The Collector…'
"See ya on the way down."
http://radaronline.com/exclusives/2014/05/rihanna-charlie-sheen-feud-twitter-village-idiot/
Sure thing, Charlie…..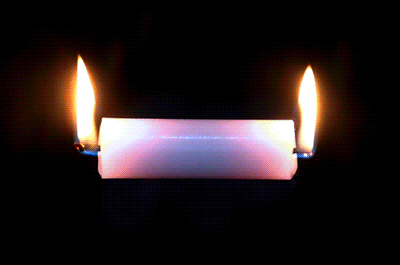 'candle burning at both ends' by http://jk-keller.tumblr.com/
**************