July 28 at 1916 EDM:  This here is a good podcast that was just shared out by the Jennifer Wilkerson Missing Facebook page today.  I'm going to try to embed the podcast here:
https://www.podomatic.com/podcasts/unfoundpodcast/episodes/2017-07-28T10_26_06-07_00
January 13, 2016 just before the stroke of midnight EDM:  Why yes… there was an earlier post on this site about Jennifer Wilkerson.  Some of you may recall that.  What happened to it?  Well you may ask.  It was the only page on this site that has ever got jacked.  Either wordpress messed up or it got hacked.  I couldn't link to it anymore.  Anyone trying to get to the page got redirected to another one…. Thank you for your interest……
………………
Epilogue, August 24, 2014:  If anyone you care about ever goes missing, here's what you can do to help get them found:  appeal to the public with an accurate account of what is known and can be told to the public regarding the circumstances.  Make sure that the account is consistent with respect to all the media outlets to which you or others have given the story.  This has never been done in the case of Jennifer Wilkerson.  As I write this, there are still significant discrepancies in the accounts given by people who "really know her" to media outlets to which they themselves have posted or given Jennifer's story.  Two telling discrepancies involve Jennifer's purse and keys.
For instance, here on the family's own online "updates,"  http://www.findjenniferwilkerson.wagls.com/guestbook/updates.html it is said on July 22, 2004 that "Jennifer and her purse were gone."  However, on Friday, December 24, 2004 on the same page, it is said that "Wilkerson left her purse, wallet, cell phone and house keys. In fact not a single one of her things vanished along with her."  And ""Her car was there. Her purse.  Keys.  All her possessions and she wasn't," [her father] Jack said." http://lubbockonline.com/local-news/2013-03-09/inside-world-missing#.VdsaJflVhBc
However, on the Charley Project missing persons page,  http://www.charleyproject.org/cases/w/wilkerson_jennifer.html it is said that "She also left behind money and all her personal possessions except her tan shoulder strap purse."
Even accounts of who reported Jennifer missing vary significantly:  "Her father reported her missing Wednesday afternoon:  http://www.findjenniferwilkerson.wagls.com/  "
"She did live with two other roommates, hence the concern. Her normal mode, if she was going to leave, was to tell someone if she was leaving and that was not the case. Therefore, the roommates contacted the family and the family contacted us," said Sheriff Gutierrez."  http://www.findjenniferwilkerson.wagls.com/guestbook/updates.html
However, "Although Jennifer was last seen July 13, it was a day later her boyfriend** called officials, said [Lubbock County Sheriff investigator Terry] Sansing."  http://www.everythinglubbock.com/news/klbk-news/ten-years-later-family-searches-for-missing-jennifer-wilkerson  And those last two mutually contradictory statements are both, you'll notice, from the Sheriff's department in Lubbock, which was charged with the task of finding out what happened to Jennifer.  (To me, these last two contradictory state-ments suggest a sheriff's department that can't be bothered to get its facts straight before it gives information to the media.)
** Jennifer's boyfriend was not one of her roommates.
With respect to her last known movements, it is said here  http://www.findjenniferwilkerson.wagls.com/ that "She was last seen Tuesday morning, July 13,  in the 2400 block of 118th St.  Her boyfriend told deputies that Wilkerson was driving home from that location and then to work at Nothin' Butt Smokes."  However, it is said here http://www.everythinglubbock.com/news/klbk-news/ten-years-later-family-searches-for-missing-jennifer-wilkerson  that "Jennifer Wilkerson was last seen on July 13th, 2004. She spent the night at her boyfriends [sic], then went home to change clothes for work. She was supposed to meet him for lunch, but her family said she never showed."
Now, these are not small discrepancies.  A tan shoulder purse, seen by a river, might jog someone's memory.  A car, headed in a direction not involving a smoke shop, might stir a recollection in someone who knows Jennifer.  But neither the people who "really know her" nor the Sheriff's office charged with finding her have evidently ever seen fit to assess the accuracy of the information released to the public from whom they have repeatedly asked for help.   https://www.facebook.com/pages/Jennifer-Wilkerson-Missing/262236133839041
But, this is what the Lubbock County Sheriff's office cares about right now:
(It  is perhaps a measure of the state of decay of the American nation overall, that a relat-ively small city out in the boondocks of East Texas can have so many big-city drug and gang problems.  I find it ironic when outlaw bikers toot their own patriotism; they were and still are one of the major conduits for the drug cartels that look set to destroy North America altogether in the next generation or so.  Who needs Isis to destroy us when our young are so ready and willing to destroy themselves with drugs?)
As for Jennifer Wilkerson, now disappeared these long eleven years, even now, who is to say that giving an accurate account might not be of some use in some fashion?  But, I think it's safe to say that it's not going to happen.  And I think the failure to do so is an important predictor of the outcome.  Very unfortunate…
…………….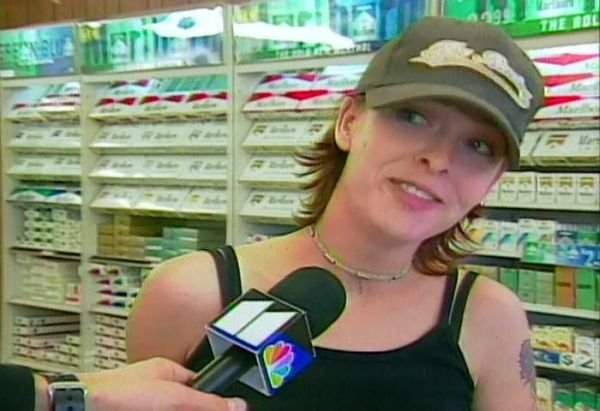 picture of Jennifer Wilkerson, from a KCBD interview published approximately three months before her disappearance, on the subject of tobacco taxes
*************
………………….
June 08, 2015:  Well, now I have to eat my words about how Canadian cops would never ever go on record as saying that a woman who was clearly at risk when she went missing was not considered to be in any danger.  Because that, apparently, is exactly what a Cana-dian cop did with respect to the only other post on this site that refers directly to an evid-ent abduction:  https://marnietunay2.wordpress.com/2015/02/17/amber-tuccaros-last-phone-call-the-complete-recording/
…………………..
June 02, 2015 update:  Here's another post that continues to attract intense interest, with the highest number of 'most popular tags' hits, except for a brief spell last month when the tragedy involving Bandidos beat out all other contenders in that respect…  (Curiously, before and after that brief blip to this day, I also get more searches regarding Hells Angels than I do for the Bandidos, despite the fact the Angels are barely mentioned on this blog except for one  lone post, not recently, either…)  Anyhoo, I've  cleaned this page up a bit, made it more readable, hopefully.
February 15, 2015:  I stumbled this interview by KCBD with her co-worker, Maxie Brooks, done a week after Jennifer's disappearance, which I hadn't previously seen:  http://www.kcbd.com/story/2055468/authorities-continue-search-for-jennifer-wilkerson
I note that last sentence:  "Investigators do not suspect foul play."  Really??  I can't imag-ine a Calgary cop making that kind of a call when a co-worker who's known the missing woman for six years says "it's not like her" to disappear or to be out of contact with family and friends, and when her bank account hasn't been touched since she went missing, and her car's parked at her home!
******************
November 13, 2014.  I hadn't updated this post with the latest offering from everything lubbock:  http://www.everythinglubbock.com/story/d/story/ten-years-later-family-searches-for-missing-jennif/37737/Ci2PgGBDCUipqCNmMqIV4Q  because my refusal to post or to comment on that story was rooted in the old saying:
……………….
See, the published 'facts' about Jenifer's disappearance keep changing.  Her disappear-ance was totally out of character.  Oh, wait, actually, the sister initially assumed that Jen-nifer was just "off on one of her little adventures." And the father took two days to tell her mother she was missing.  Her tan shoulder-strap handbag was missing, too.  Oh wait, no it wasn't.  Oh, wait, it wasn't a handbag at all, it was an evening bag, just large enough to hold a cell phone and some keys.  The cops have a surveillance video of someone who was hassling her at work a few days before she disappeared.  Oh, wait, no, they don't "have the evidence they need to follow through" on a story they claim they've been told "by multiple people" [sic]  over the years,  "a story that never changes."  (They must be waiting for the proverbial smoking gun to fall down like manna from the heavens, then, because, up here, a story that never changes in ten years, told by "multiple people," is evidence.)   Jennifer was going home from her boyfriend's*** house to change and then go to work.  Oh, wait, no, she was going to meet him for lunch but didn't show up.  That story doesn't even make sense.  According to the room-mate, Jennifer had planned to go to her boyfriend's after work on the previous day;  and, according to numerous reports, she spent the night there.  So, what, she didn't anticipate staying overnight at all and take a change of clothes with her?  In that case, why are two sets of clothes apparently missing?  Was the boyfriend's plumbing not working that day, she couldn't have a shower there?  Pleeezzz…..
And, apparently, the only person who thinks there's a problem with posting multiple and inconsistent versions of what happened and while you're asking the public for help, is me.
So, I'm kind of done here, and that's why I hadn't said anything.  Hope that clears that up.
*************
November 03, 2014:
"Decades later, family of Jennifer Wilkerson still want answers"
A number of videos were done this year, marking a decade since 24-year-old Jennifer Wilkerson vanished one July morning from Lubbock, Texas.  I have just now fully transcripted the most recent (and the most interesting) of those:
http://www.myfoxlubbock.com/news/local/story/Lubbock-Jennifer-Wilkerson/CJlKRnZ3uke73r1a7C_HcQ.cspx#.U9HLo375NhY.facebook
http://www.myfoxlubbock.com/mediacenter/local.aspx?videoid=5243294
for the hard-of-hearing…  You're welcome.
COMPLETE TRANSCRIPT:
News anchor:  "Alright, thanks, Rudy.  It's a mystery that still isn't solved.  The family and friends of Jennifer Wilkerson hoping for some closure, a decade later.
News anchor:  "Our Henry Ramos spoke with her father and a roommate who saw her the day before she vanished."
Henry Ramos:  "Jessica Green [sic] still remembers like it was just yesterday."
Jessica Bullock-Green (nodding repeatedly):  "I remember saying 'see you' and not 'bye.'
Ramos:  "Green saw Jennifer Wilkerson the day before she disappeared."
Bullock-Green:  "We talked for a minute, 'n she said she was gonna go, uhm to her boyfriend's after work and I'm like 'okay well, I'll see ya later' ya know, that was just our typical thing ." [at 00:37]
Ramos:  "But Green never ever saw her roommate again."
Bullock-Green (shaking her head):  "It's still as much of a struggle now as it was then, but, it's been ten years." [at 00:47]
Ramos:  "On the morning of July 13, 2004, police say Jennifer left her boyfriend's house to go home and shower.  They found her car at home; all of her belongings were inside, but she didn't show up to work. " [at 01:02]
Jack Wilkerson:  "It's like your whole life has just started over.  Everything has changed and we were really lost, still are, in-n-n most ways."
Ramos:  "Jennifer's father Jack says the past ten years have been too hard to even describe.  He says the only thing his family has, is hope." [at 01:20]
Jack Wilkerson:   "I mean, logically, we have to accept the fact that probably she's not with us any longer.  I can't face that, until there's some kind of evidence. Y'know, until someone can show me proof, something more than just rumors." [at 01:39]
Bullock-Green:  "Ya know, every year, in July, comes another anniversary, every year in December comes another birthday; and [pauses] we share the same birthday month, so, ya know, it's not that hard to forget [sic] [at 01:55] 'n,
[pauses] I think about her all the time." [at 01:58]
Ramos:  "Lieutenant Bryan Taylor with the Lubbock Sheriff's Office says the case has gone cold; there hasn't been any leads, but he did say the investigation is, quote, very active.  Henry Ramos, Fox 34, News At Nine."
Voice-over from Lieutenant Bryan Taylor:  "If you can provide info on Wilkerson's disappearance, go to myfoxlubbockdot com for how to submit tips to sheriff's [emphasis, Taylor's] investigators."
………….
………….