May 07, 2020:  The government of Qatar does not care about any migrant workers who have a problem:   https://www.theguardian.com/global-development/2020/may/07/qatars-migrant-workers-beg-for-food-as-covid-19-infections-rise  not even if the problem is not of the migrant's making.
So, if you're thinking of working there in the future, you  should consider yourself warned.  I wouldn't even go there if I was an engineer or other skilled worker; it's clear they don't really care about anyone except themselves.  If anything goes wrong, I would say you're unlikely to find justice there.
March 31, 2016:  This blog-post reaches people in places like India, Oman, Pakistan, who may not have regular access to other western news sources, such as the ones widely reporting yesterday and today on current working conditions in Qatar:  They still suck, okay?   That's according to a just-released report from Amnesty International, which doesn't have a dog in the hunt, unlike Qatari officials:  http://www.cbc.ca/news/world/amnesty-international-report-world-cup-qatar-migrant-workers-1.3514089   If you're an engineer or some other high-paid fellow with a country that'll take note if you disappear, you'll probably be okay.  But if you're just an average Joe trying to make a few bucks to feed the family back home, then my advice to you is:   Find Another Country to work in.  You're really asking for trouble if you get suckered into working for the Qataris.  Every Single One of the immigrants interviewed by Amnesty International complained of serious abuses or really bad working/living conditions.  And you know things gotta be bad if you're from Bangladesh and you're complaining about the bunkhouse in Qatar.  You can be enslaved there, folks.  Seriously, Qatar is not the answer to your dreams.  This message is brought to you as a public service.  I don't have a dog in the hunt, either.
************
October 09, 2015:  According to this article today in the Guardian, if you work in Saudi Arabia and you displease your employer in any way, you also run an extreme risk of getting treated according to heretic and vicious Saudi notions of 'sharia,' which, in the case discussed in the article, involved cutting off an Indian woman's hand for fleeing the job from Hell:  http://www.theguardian.com/world/2015/oct/09/saudi-arabian-employer-accused-chopping-off-indian-maids-hand-kashturi-munirathinam
I have five different English translations of the Quran, a book I've read cover to cover three times.  And in none of them does an employer have the right to cut off someone's hand for running away.  (Not that he'd be justified in doing so anyway, according to more enlight-ened legal codes, even if a book written in the 8th century had said it was okay.)  I'm sure there are enlightened Arabs in Saudi Arabia, but you're not going to hear much about them; they don't run things there and if they want to continue living outside of jail and floggings or death, they should probably stay pretty quiet.
……………..
December 24, 2014:
Are you from Nepal and tired of living?  Or do you just enjoy gambling with your life?  Then we have the job for you!  Help build the World Cup 2022 infrastructure in Qatar, where the desert nights are warm and life is short… for migrant workers, that is….
Excerpts from an article yesterday on the Guardian about the death rates of Nepalese migrant workers in Qatar:
"A series of stories in the Guardian have shown that migrant workers from Nepal, India, Sri Lanka and elsewhere were dying in their hundreds. While some were listed as having been killed in workplace accidents, many more were said to have died from sudden, unexplained cardiac arrest.
"The government confirmed in the DLA Piper report that 964 workers from Nepal, India and Bangladesh had died while living and working in the Gulf state in 2012 and 2013.
"The report recommended that Qatar do more to record and investigate the causes of death among the migrant population but it has made little outward progress.
"After it was published, Qatar said it would reform the kafala system that keeps workers tied to their employer, and better enforce laws that require contractors to provide humane living conditions and ban them from seizing passports.
"But the system that Qatar proposed to replace kafala would still leave workers tied to their employer for the length of their contract, which could be as much as five years."
 "….an Amnesty International report last month warned that Qatar was "dragging its feet" when it came to making meaningful changes.  ""Despite making repeated promises to clean up its act ahead of the World Cup, the government of Qatar still appears to be dragging its feet over some of the most fundamental changes needed, such as abolishing the exit permit and overhauling its abusive sponsorship system," it said….."
"Six months later, only a handful of the limited measures announced in May have even been partially implemented. Overall, the steps taken so far are woefully insufficient."
[Read the entire article for free on the Guardian web-site here:
http://www.theguardian.com/world/2014/dec/23/qatar-nepal-workers-world-cup-2022-death-toll-doha   ]
Qatar:  the jobs are to die for.
roulette wheel by http://www.rgbstock.com/user/mzacha
……………
*****************
September 23, 2014:  
What does Dubai have in common with outlaw bikers?
Australian outlaw motorcycle gangs "patched over recruits from Middle Eastern groups while drug syndicates uncovered by [the amalgamated Santiago-Echo gang task forces] are using bikies as distributors through nightclubs, building sites, gyms, tattoo parlours and the transport industry."
Read more: http://www.theage.com.au/victoria/tax-office-slaps-senior-outlaw-bikie-with-10m-bill-20140921-10jxzs.html#ixzz3EAUe7NUA
Former Commancheros boss Jay Malkoun split when things got too hot for him in Australia:  http://www.heraldsun.com.au/news/law-order/secret-informer-links-victorias-most-powerful-bikie-boss-amad-jay-malkoun-with-suspected-firearms-traffickers/story-fni0fee2-1226673428567?nk=9bbdd2ee1713020cb3c4e0c645f74947
http://www.theage.com.au/national/bikies-and-killer-unite-in-prison-20131106-2x21h.html
The convicted heroin trafficker:  http://www.dailytelegraph.com.au/melbourne-man-elie-malkoun-on-us-gun-charge/story-fn6b3v4f-1226207718273?nk=9bbdd2ee1713020cb3c4e0c645f74947
and alleged wife-beater:  http://www.news.com.au/national/wife-begs-for-protection-as-out-of-jail-drug-trafficker-elie-malkoun-eyes-return-home/story-fncynjr2-1226538657303
who has joint Lebanese-Australian citizenship, nevertheless elected not Lebanon but Dubai as his new haven:  http://www.heraldsun.com.au/news/law-order/comanchero-boss-jay-malkoun-sells-up-for-new-life-overseas/story-fni0fee2-1226689779257
His criminal convictions would have barred him from entering Canada, for one, but apparently the United Arab Emirates will take anybody, if the price is right.  Oh, and of course, there's the 'education' exemption.  Ol' Malkoun, who "is understood to have links with Dubai's royals, associations with powerful Australian expatriates and a passion for Arabian horses"  http://www.theage.com.au/victoria/comanchero-leadership-change-inflames-spate-of-bikie-gang-violence-20131005-2v17t.html
is supposedly running an "advanced learning centre for children" in Dubai:  http://www.onabike.com/brothers-behind-bars/archives/BBB_2014_06_June_2.pdf  [p. 13]   And I know I'd be just thrilled to have my little princess studying there… :-p
Australia has been very busy these past two years, going after outlaw bikers and other undesirables for taxes.  Why aren't we doing that here in Canada, I wonder?
*************
September 06, 2014:  Planning to stop by Middle-Eastern trouble-maker Qatar to check out the bad news on the foreign-workers or terrorist-support fronts for yourself?  Well, don't.  Two British human-rights activists who did just that, have just gone missing in Qatar.  From today's news in the Guardian:   "Krishna Upadhyaya, 52, and Ghimire Gundev, 36, arrived in Qatar on 27 August to research a forthcoming report on the working and living conditions of Nepalese migrant workers in the Gulf emirate. Qatar's treatment of its migrant workers has drawn widespread criticism from human rights groups as it prepares to host the 2022 World Cup.
On the evening of Saturday August 30, Upadhyaya sent an urgent text to a friend in Norway saying, "I am being followed by the police here. Looks like they will give me troubles now."
Read the rest of the story here:   http://www.theguardian.com/world/2014/sep/04/qatar-british-human-rights-activists-feared-detained-police
October 05, 2014 update:  Well, actually, this update is from September 09, but, sometimes it takes awhile for me to catch up on stories.  Sooo, on September 07, Qatar authorities admitted they had the two British human-rights activists in custody:  http://www.theguardian.com/world/2014/sep/07/qatar-detains-humn-rights-british-workers
and on September 09, bowing to international pressures no doubt, the Qataris released said activists:   http://www.theguardian.com/world/2014/sep/09/uk-human-rights-researchers-qatar-freed  It does help to be British, doesn't it?  Meanwhile, no such happy news for the Asian and other workers who go to Qatar, no word of any improvements for their lot….
……………..
August 25, 2014:  Well, the bad news just keeps coming for ol' Qatar there….  From the article:
http://www.nytimes.com/2014/08/25/opinion/qatar-club-med-for-terrorists.html?src=me&module=Ribbon&version=origin&region=Header&action=click&contentCollection=Most%20Emailed&pgtype=article&_r=0
"It says a great deal that Hamas's former Arab backers, which historically have included Egypt, Syria and Saudi Arabia, long ago abandoned the terrorist group. Only a few nations still stand by Hamas. Among the most prominent is the tiny Persian Gulf emirate Qatar…..
Today, the petite petroleum kingdom is determined to buy its way to regional hegemony, and like other actors in the Middle East, it has used proxies to leverage influence and destabilize rivals. Qatar's proxies of choice have been radical regimes and extremist groups.
In pursuit of this strategy, the gulf state is willing to dally with any partner, no matter how abhorrent. Qatar has provided financial aid and light weapons to Qaeda-affiliated groups in Syria, and a base for leaders of the Muslim Brotherhood and the Taliban……"
And sometime Texas resident Alexey Sergeev, who also spends a lot of time in Qatar, recently posted a number of graphic portrayals of how the filthy-rich emirate houses its migrant laborers…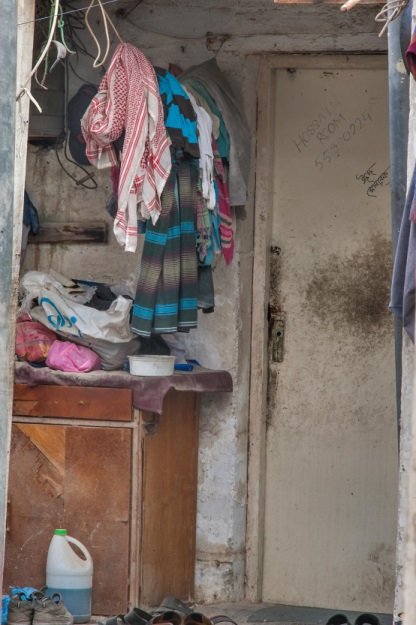 "Worker's apartment on Ibn Hanbal Street in Musheirib area. Doha, Qatar, May 2, 2014"  photo by Alexey Sergeev at  http://www.asergeev.com/pictures/archives/list.htm   
………………..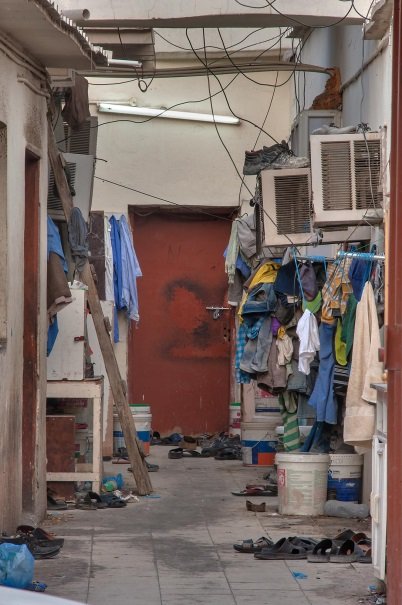 "Living room of a worker's apartment on Umm Wishad Street in Musheirib area. Doha, Qatar, May 2, 2014" by Alexey Sergeev at   http://www.asergeev.com/pictures/archives/list.htm
…………………..
*****************
July 28, 2014 update:  Didja work for the Emir of Qatar and not get paid?  Well, it sucks to be you:   http://www.theguardian.com/global-development/2014/jul/28/-sp-qatar-migrants-tower-football-world-cup
From the above article:  "The men built a sleek white interior for the 38th and 39th storeys, which are now occupied by some of the supreme committee's executives. No expense was spared by the royal clients. They fitted handmade Italian furniture, bespoke etched glass panelling and a state-of-the-art toilet that washes, dries and has a heated seat. They were supposed to be on modest wages – about £150 a month according to the terms with their employer, Lee Trading and Contracting – but have not been paid for months of labour and in some cases more than a year. They are sliding ever deeper into poverty. Families back home have had to take out high-interest loans to survive."
"Unlike almost anywhere else in the world, the workers cannot legally take their labour anywhere else without permission from their employer. Making things worse, their passports have been taken from them and in any event under the Qatari system of labour sponsorship known as kafala, they can only leave the country with the permission of their employer or sponsor."
"This was not just any project. Contract documents obtained by the Guardian show the fit out was commissioned by Katara Projects, a Qatari state entity under the auspices of the then heir apparent, Sheikh Tamim, who is now emir. The project director was Hilal Jeham al-Kuwari, the president of the Aspire Zone Foundation, the royal family's elite sports foundation and also chairman of Katara. A spokesman for Aspire said the offices were intended for Katara."
See, that's the difference between a kingdom and a democracy:  accountability.
June 11, 2014 update:  Saudia Arabia is still at 'Tier 3' in the U.S. system of rating efforts made by countries to counter human trafficking.  Tier 3 is the worst level, given to countries for "categorically failing to comply with the most basic international requirements to prevent trafficking and protect victims."
Right now Thailand is about to find itself on that list:  http://www.theguardian.com/global-development/2014/jun/11/us-blacklist-thailand-prawn-trade-slavery-revelations
which could "lead to restrictions on US foreign assistance and access to global institutions such as the World Bank and International Monetary Fund."
"A relegation to tier three could trigger economic sanctions and loss of development aid, although such punishments can be waived under certain national security considerations."
Yeah, 'security considerations…'  Like a greed for oil… If Thailand had oil, the U.S. wouldn't be saying 'boo' to it.
**************
July 20, 2013 update:  You got raped in Dubai?  Too bad, so sad:  http://www.cbc.ca/news/world/story/2013/07/20/norwegian-rape-dubai.html  There is no religion that countenances the rape of women.   July 22, 2013 update:   Dubai has let the unfortunate Norwegian outta the clink and given her 'leave' to get outta Dodge:  http://www.guardian.co.uk/world/2013/jul/22/dubai-rape-case-woman-pardoned  Now stay out of Dubai, ladies…
July 11, 2013 update:  Your ex-pat work-contract means nothing to a Saudi royal.  Case in point:  http://www.guardian.co.uk/law/2013/jul/11/saudi-princess-accused-slavery
July 13 update on the Saudi princess who wanted to keep her own little slave quorum:  http://www.guardian.co.uk/world/2013/jul/12/saudi-princess-human-trafficking-california   """These people have lots of money; they think they're above the law," said Ali AlAhmed, director of the Washington-based Institute for Gulf Affairs.""
***************
Enjoy taking your life and freedom into your hands?  Love to leave the decision-making entirely up to others?  Then take a ride on the Reading… right into United Arab Emirates, Qatar or Saudi Arabia….
According to the U.S. State Department, Qatar is a such dicey place for foreign workers, or heck, foreign travellers, to be in that it's on a gasp!  "watch list."  Tier 2 no less.   Nope, no idea what exactly that means, although I've inquired and if they deign  to answer I will post in the comments section to this post.  But, the State Department's remarks in their 2011 "human trafficking" report:
http://www.state.gov/j/tip/rls/tiprpt/2011/index.htm
give some idea of what the unwary might find in UAE or Qatar.  Since the State Department hasn't bothered to put any  html titles in its lengthy publication, I'm gonna cut right to the chase for you all.. you're welcome.
United Arab Emirates:  UNITED ARAB EMIRATES (Tier 2)                            "The United Arab Emirates (UAE) is a destination for men and women, predominantly from South and Southeast Asia, who are subjected to forced labor and forced prostitution. Migrant workers, who comprise more than 90 percent of the UAE's private sector workforce, are recruited from India, Pakistan, Bangladesh, Nepal, Sri Lanka, Indonesia, Ethiopia, Eritrea, China, Thailand, Korea, Afghanistan, Iran, and the Philippines. Women from some of these countries travel willingly to the UAE to work as domestic servants, secretaries, and hotel cleaners, but some are subjected to conditions indicative of forced labor, including unlawful withholding of passports, restrictions on movement, nonpayment of wages, threats, or physical or sexual abuse. Restrictive sponsorship laws for foreign domestic workers often give employers power to control their movements, threaten them with abuse of legal processes, and make them vulnerable to exploitation. Men from India, Sri Lanka, Bangladesh, and Pakistan are drawn to the UAE for work in the construction sector, but are often subjected to conditions of forced labor, including debt bondage as they struggle to pay off debts for recruitment fees. Migrant workers were vulnerable to forced labor, particularly in the construction sector, as some employers declared bankruptcy and fled the country, effectively abandoning their employees. Women from Eastern Europe, Central Asia, Southeast Asia, the Far East, East Africa, Iraq, Iran, and Morocco are subjected to forced prostitution in the UAE.
The Government of the United Arab Emirates does not fully comply with the minimum standards for the elimination of trafficking; however, it is making significant efforts to do so. This year, the government established a special court to hear human trafficking cases in Dubai and opened two new shelters for victims of trafficking. The government continued to prosecute and punish sex trafficking offenders, though its efforts to combat forced labor remained extremely weak. Although the government acknowledges the need to address forced labor, there continued to be no discernible anti-trafficking efforts against the forced labor of temporary migrant workers and domestic servants. These victims remained largely unprotected and, due to the lack of systematic procedures to identify victims of forced labor among vulnerable populations, they may be punished for immigration and other violations."
There's more in the report about the government's efforts, or lack of them, and recommendations, but you get the idea… moving on…
Qatar:  QATAR (Tier 2 Watch List)                                                                        "Qatar is a destination country for men and women subjected to forced labor and, to a much lesser extent, forced prostitution. Men and women from Nepal, India, Pakistan, Bangladesh, the Philippines, Indonesia, Vietnam, Sri Lanka, Ethiopia, Sudan, Thailand, Egypt, Syria, Jordan, and China voluntarily migrate to Qatar as low-skilled laborers and domestic servants, but some subsequently face conditions indicative of involuntary servitude. These conditions include: threats of serious physical or financial harm; the withholding of pay; charging workers for benefits for which the employer is responsible; restrictions on freedom of movement, including the confiscation of passports and travel documents and the withholding of exit permits; arbitrary detention; threats of legal action and deportation; threats of filing false charges against the worker; and physical, mental, and sexual abuse. In some cases, arriving migrant workers have found that the terms of employment in Qatar are different from those they agreed to in their home countries. One NGO reported, however, that the Qatari National Human Rights Committee handles approximately 700-800 labor-related cases per year, most of which indicate forced labor, but does not generally identify them as such. Many migrant workers arriving for work in Qatar have paid exorbitant fees to recruiters in their home countries – a practice that makes workers highly vulnerable to forced labor once in Qatar. Under the provisions of Qatar's sponsorship law, sponsors have the unilateral power to cancel workers' residency permits, deny workers' ability to change employers, report a worker as "absconded" to police authorities, and deny permission to leave the country. As a result, sponsors may restrict workers' movements and workers may be afraid to report abuses or claim their rights, which contribute to their forced labor situation. In addition, domestic servants are particularly vulnerable to trafficking since they are isolated inside homes and are not covered under the provisions of the labor law. Qatar is also a destination for women who migrate for legitimate purposes and subsequently become involved in prostitution, but the extent to which these women are subjected to forced prostitution is unknown. Some of these victims may be runaway domestic workers who have fallen prey to forced prostitution by individuals who exploit their illegal status."
Now, the interesting thing about that blurb on Qatar is what it Doesn't say.  It doesn't say that Iranian women and children are subjected to sex trafficking in Qatar, which is kind of strange, because it Does say that in the section on Iran:
IRAN (Tier 3)                                                                                                                  "Iran is a source, transit, and destination country for men, women, and children subjected to sex trafficking and forced labor. Iranian women are trafficked internally for forced prostitution and forced marriage. Iranian and Afghan children living in Iran are trafficked within the country for commercial sexual exploitation – sometimes through forced marriages, in which their new "husbands" force them into prostitution and involuntary servitude as beggars or laborers to pay debts, provide income, or support drug addiction of their families. There are reports of women and girls being sold for marriage to men in Pakistan for the purpose of sexual servitude. Young men and Afghan boys are forced into prostitution in male brothels in southern Iran or to Afghan and Pakistani warlords. Iranian women and children – both girls and boys – are also subjected to sex trafficking in Pakistan, Turkey, Qatar, Kuwait, the United Arab Emirates, Bahrain, Iraq, France, Germany, and the United Kingdom. Some NGOs report that religious leaders and immigration officials are involved in the sale of young girls and boys between nine and 14 years old to men in Gulf states, particularly Bahrain, for commercial sexual exploitation. According to these sources, a young girl or boy could be sold for $15 to $20 or, in Iran, for as little as $5. The main purchasers of child prostitution in Iran include truck drivers, religious seminaries, and Afghan immigrant workers. Afghan women, boys and girls are also trafficked through Iran to the Persian Gulf for commercial sexual exploitation.
Men and women from Pakistan, Bangladesh, and Iraq migrate voluntarily or are smuggled to Iran, or through Iran, to other Gulf states, Greece, and Turkey seeking employment. Some subsequently are subjected to conditions of forced labor or debt bondage, including through the use of such practices as restriction of movement, nonpayment of wages, and physical or sexual abuse. In Iran, reports indicate victims primarily work in the construction and agricultural sectors, although this type of forced labor may have declined over the past year due to the economic crisis. There are reports that women from Azerbaijan and Tajikistan travel to Iran to find employment and subsequently fall victim to forced prostitution. Tajik women transit Iran and are forced into prostitution in the UAE. NGO reports indicate criminal organizations, sometimes politically connected, play a significant role in human trafficking to and from Iran, particularly across the borders with Afghanistan and Pakistan in connection with smuggling of migrants, drugs, and arms. There are nearly one million Afghans living in Iran, some as refugees and others as economic migrants, who are vulnerable to conditions of human trafficking."
Another thing the U.S. State Department's human trafficking section on Qatar Doesn't say is that Russian women had been reported as sex trafficking victims "throughout the Middle East," presumably including Qatar… So what's up with Those omissions, especially the one from Iran?
And the U.S State Department Doesn't put Saudi Arabia on any ol watch list; in fact, says the Saudis have made "nominal" efforts to improve their human trafficking issues, said which efforts, however, don't include an alleged Saudi demand for sex tourism:  SAUDI ARABIA (Tier 3)   "Saudi Arabia is a destination country for men and women subjected to forced labor and to a much lesser extent, forced prostitution. Men and women from Bangladesh, India, Sri Lanka, Nepal, Pakistan, the Philippines, Indonesia, Sudan, Ethiopia, Kenya, and many other countries voluntarily travel to Saudi Arabia as domestic servants or other low-skilled laborers, but some subsequently face conditions indicative of involuntary servitude, including nonpayment of wages, long working hours without rest, deprivation of food, threats, physical or sexual abuse, and restrictions on movement, such as the withholding of passports or confinement to the workplace. Recent reports of abuse include the driving of nails into a domestic worker's body. Although many migrant workers sign contracts delineating their rights, some report work conditions that are substantially different from those described in the contract while others never see the contract at all, leaving them vulnerable to forced labor, including debt bondage. Due to Saudi Arabia's requirement that foreign workers receive permission from their employer to get an "exit visa" before they are able to leave the country, some migrant workers report that they were forced to work for months or years beyond their contract term because their employer would not grant them the exit permit. Local and international media reported in May and June that some Nepalese domestic workers had been recruited to work in Kuwait and then illegally transported to work in Saudi Arabia against their will.
Women, primarily from Asian and African countries, were believed to have been forced into prostitution in Saudi Arabia; others were reportedly kidnapped and forced into prostitution after running away from abusive employers. Yemeni, Nigerian, Pakistani, Afghan, Chadian, and Sudanese children were subjected to forced labor as beggars and street vendors in Saudi Arabia, facilitated by criminal gangs. Saudi authorities reported fewer Yemeni children may have been forced to work in Saudi Arabia during the reporting period. Some Saudi nationals travel to destinations including Morocco, Egypt, Yemen, Afghanistan, Pakistan, India, and Bangladesh to solicit prostitution. Some Saudi men used legally contracted "temporary marriages" in countries such as Egypt, India, Mauritania, Yemen, and Indonesia as a means by which to sexually exploit young girls and women overseas."  There's quite a lot more in the U.S. State Department's "human trafficking" section on Saudi Arabia, which should be enough to dissuade many from taking a job over there, and which, together with this latest grim case of 'foreign work gone deadly' coming out of there:  http://www.guardian.co.uk/world/2013/jan/13/saudi-arabia-treatment-foreign-workers   would cause many to wonder exactly Why Saudi Arabia isn't on a 'watch list.'
……