September 16, 2016 at 10:20 AM EDM:
"A McClennan County grand jury has declined to indict three officers involved in the Twin Peaks shootout in Waco in 2015 that left nine bikers dead, 18 wounded and 177 in jail.
The officers — 15-year veteran Andy O'Neal, 11-year veteran Michael Bucher and 9-year veteran Heath Jackson — were no-billed, meaning the grand jury found insufficient grounds for a criminal trial."  Read more here:  http://www.star-telegram.com/news/state/texas/article101864182.html   I note that article mentions an "interim Police Chief" in Waco.  The previous police chief,  Brent Stroman, evidently decided to retire a few months ago:   http://www.wacotrib.com/news/police/chief-stroman-to-retire-after-years-in-waco-police-department/article_011e692a-3d43-53e8-9c0d-81fe159a3ff5.html  Assistant Police Chief Frank Gentsch has temporarily taken over the job:  http://www.kwtx.com/content/news/Waco-Interim–385636061.html
……………
Edward Winterhalder was an Okalahoma Bandido.
I learned a lot from his book:   http://www.amazon.com/Out-Bad-Standings-Motorcycle-Club–The/dp/0977174700/ref=sr_1_1?ie=UTF8&qid=1352478064&sr=8-1&keywords=out+in+bad+standings
about the activities, criminal and otherwise, the organization and power structure, the fundamental values of the Bikers, and, in the end, I learned what sets outlaw biker club members apart from the rest of us in terms of fundamental values and why Edward Winterhalder never really escaped from the outlaw biker mentality (although he would, I'm sure, beg to differ).
We don't have Bandidos in Canada any more, to the best of my knowledge at the time of writing this.  They were killed off in a long-running war lasting until 2006 by both Hells Angels bikers and by their own 'brothers.'  But we do have Outlaws Motorcycle Clubbers, right here in Edmonton, in fact, and Winterhalder's book makes it clear just how thick the Bandidos in the U.S. are with both Outlaws and the Sons of Silence, as well.  (Moreover, I did hear recently that forty Bandidos were seen meeting Hells Angels bikers in B.C. for a conference, but I have no real knowledge of what that was about at this time.  Doesn't bode well for the rest of us, though.)
Winterhalder's book, 'Out in Bad Standings,' covers the biker war in Canada extensively.  It also covers the overall history of the club and his own involvement with it from 1999 through 2006.  I bought a hardcover edition of the book, and it's a beautifully made book, with many of Winterhalder's own pictures of the Bandidos included.  He includes the Bandidos club documents, lists all of the chapters world-wide, and all of the Bandido 'support' clubs and Their chapters as well, which I found very helpful as I look at Jennifer Wilkerson's situation, both past, in Hobbs, New Mexico, and in Lubbock.
From Winterhalder's perspective, the international president during the 2003 – 2004 period of my specific interest, "El Presidente George "George" Wegers, was kind of a Bandido 'Spider King,' who interfered relentlessly with the operations of individual Bandido 'chapters,' and controlled the club through lying and deception.  According to Winterhalder, the Bandidos Nation chapter and George Wegers were really running things in the Bandidos during 2003 – 2004, by means of manipulative maneuvers, outright deception and outright force when the first two tactics didn't work.  Winterhalder's book ends with coverage of the Bandido biker sweep in the summer of 2005, when George Wegers, along with "twenty-one other members of the Bandidos Motorcycle Club in Washington, Montana and South Dakota (Winterhalder, p. 398) were arrested for various charges stemming from the kidnapping of a rival biker club member in Montana back in 2003.  Throughout Winterhalder's book, he includes relevant newspaper articles and court documents.
"Beware of charisma." – Pierre Elliott, a Gurdjieff teacher
Nov 20, 2013 update:  Here's a screenshot of George Wegers' last twitter post as of right now: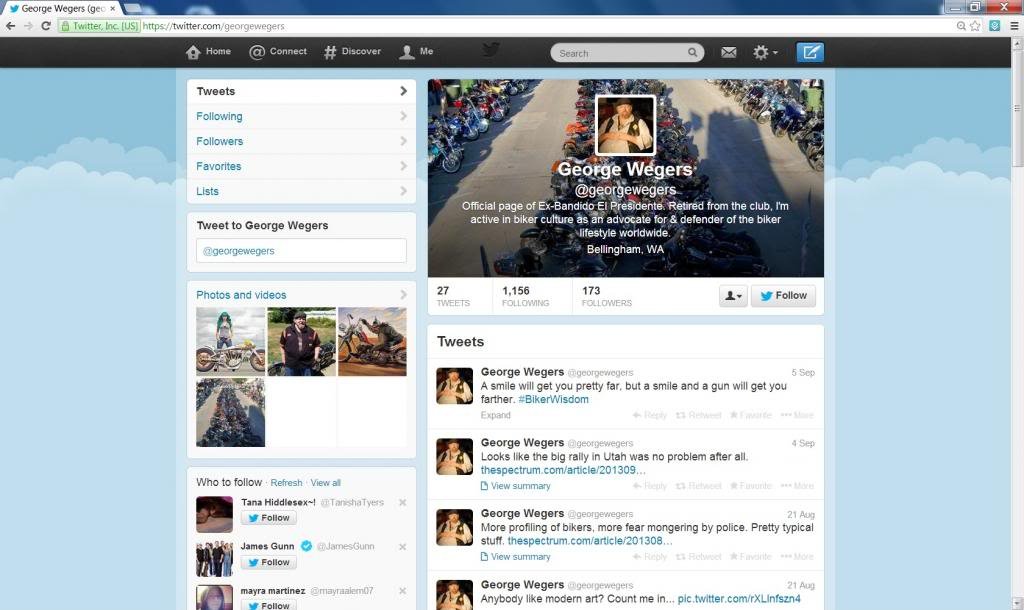 "A smile will get you pretty far, but a smile and a gun will get you farther."  Do tell…..
I don't think anyone who is seriously interested in learning about the Bandidos can afford to give Winterhalder's book a miss.
Winterhalder left the club in part because of its growing involvement in methamphetamine, and he seems to be a hard-working citizen now, in an honest and productive line of work, several of them, in fact. One might be forgiven, in fact, for coming away from Winterhalder's version of Bandido history to 2005 thinking the man is a saint, a freaking Saint! who worked selflessly for the Club and who espoused the highest personal values himself, while 'El Presidente George' Wegers, then the international president of the Bandidos, continuously persecuted him for no good reason.
Until, that is, one gets to Winterhalder's re-telling of the callous stabbing murder of (unarmed) ex-prizefighter Robert Quiroga by Bandido Richard Steven Merla, during a drinking session with Bandido Rick Casas. Then, Winterhalder's real values show themselves, on page 392, when he says:
"Instead of standing behind the Bandido who had committed the murder, Bandidos El Presidente George "George" Wegers and El Vice President Jeffrey "Jeff" Pike came up with a brand new strategy to deal with all of the negative publicity. This time, contrary to almost forty years of Bandidos club policy to never cooperate with law enforcement, they ordered Bandido Rick Casas to assist the police in prosecuting Bandido Scarface… So much of for the time honored traditions of standing behind your brothers when the going got tough and never cooperating with the police."
Horrors! Assisting the police in the investigation of the brutal murder of an unarmed Friend of the Bandidos – by his Own account! I'm guessing if it had been HIS kid who'd been murdered, he'd have been singing a different tune… But that right there, is what makes Winterhalder forever outside of the cultural and moral values most of us adhere to. He's never really stopped being an outlaw, not in his heart of hearts.  That's what makes THEM different.  They can collect Teddy Bears for kiddies all they want, help you change a tire, smile in a neighborly way when they pass you on the street, but, outlaw bikers are NOT the same as the rest of us.  They most resemble the old-time Mafia and it doesn't surprise me that another writer, Thomas Barker, has discussed links between the outlaw bikers and the Mafia as well as with organized crime groups in Russia, Serbia and the Ukraine.